About
Us
SingaporeBowling (SBF), formerly known as Singapore Tenpin Bowling Congress, was constituted in 1963.
History
Tenpin Bowling was initially confined to the private lanes of the American Club for obvious reasons – the sport was already a flourishing multi-million dollar industry with it's popularity among Americans of all ages, forcing the export of this US-penchant to the rest of the world, including Singapore.
Singaporeans were finally provided its first public centre when Jackie's Bowl Orchard opened her doors to 12-hour long waiting lists of curious locals on Christmas Eve in 1965. The highly technical nature of the sport has made excellent ball sense insufficient to carry a bowler with great potential, to the pinnacle. The ability to read the lanes – much like a golfer reading the putting green – comes through proper instruction and practice. The ability to deliver the ball accurately all the time comes through getting the body mechanics fine-tuned and well balanced so that all that can be done has been done to facilitate a perfect delivery.
Our Beliefs
To make Singapore "Top of Mind" country associated with Tenpin Bowling.
To PROMOTE Singapore as a competitive bowling nation
To NURTURE and develop its athletes to their full potential in terms of passion, skills, technique and competitive spirit
To STRIVE to elevate the popularity of bowling through working closely with SSC industry players, schools, clubs
To DEVELOP and implement focused strategies to rekindle the sport and to make it viable for player, vendors and sponsors
To CAPITALIZE Bowling's unique 'ease of play' nature to form a platform for community/family bonding
To instill into SingaporeBowling a spirit of integrity, professionalism and public spiritedness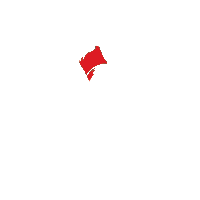 SingaporeBowling Logo
SingaporeBowling had a new Logo from May 2005.
This logo is designed with the bowling pin as the main object of the visual, which represents the sport. Using a brush-like stroke, it symbolizes the ease and freedom of bowling as a sport.
Red & White are the main colours for the logo where these colours symbolize the colours of our National State Flag.