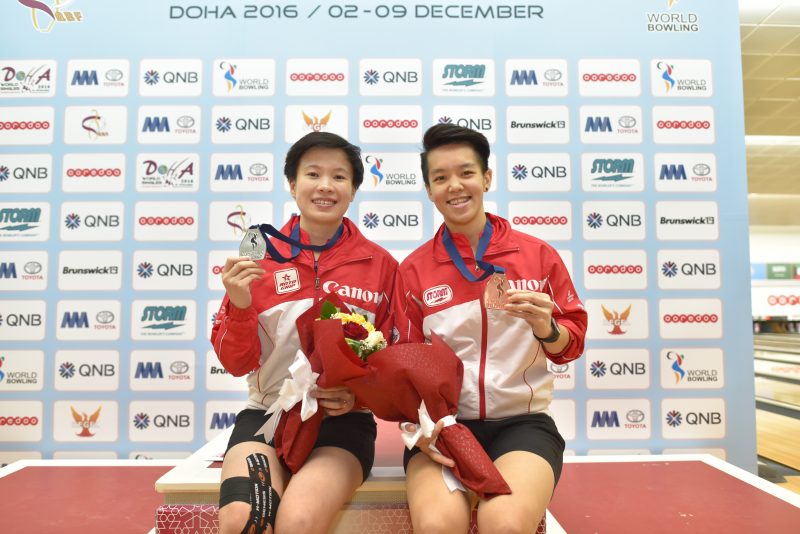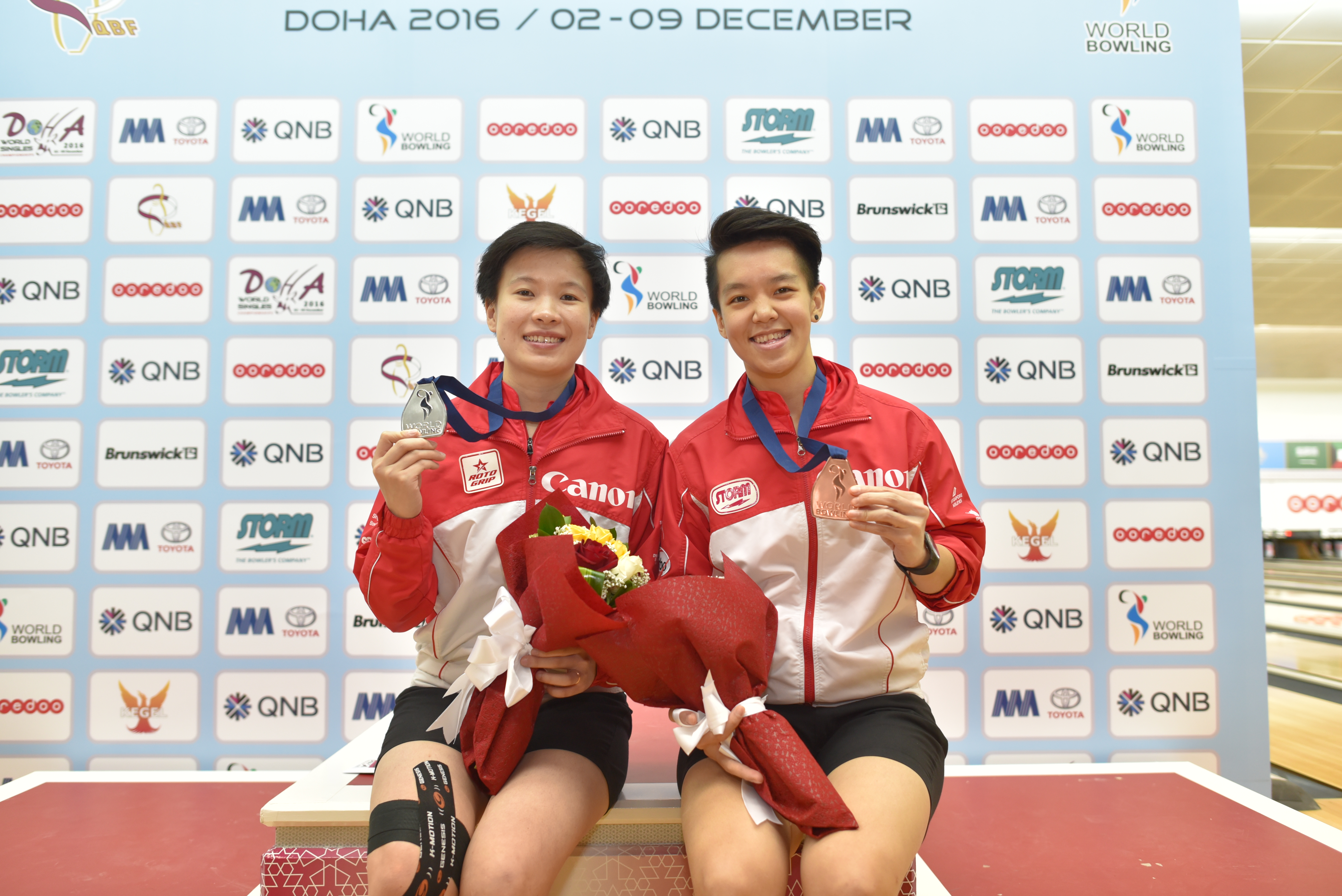 SingaporeBowling is proud to announce that New Hui Fen has won silver and Shayna Ng has won bronze in the World Bowling Singles Championship 2016.
This is bowling's most prestigious event for individual bowlers. Held every four years, this year's event was held in Qatar at the Doha Bowling Center. Originally developed as part of the Championship calendar that holds one event for adult athletes every year, this smaller scale Championship was created to allow smaller cities the possibility to host a world event. The first event was held in Limassol, Cyprus in 2012 with Americans Chris Barnes and Kelly Kullick sweeping the top prizes. Singapore sent sisters Cherie and Daphne Tan four years ago, and whilst they made it to the top 24, they weren't able to progress further. This time, we have four athletes in the roster with Muhammad Jaris Goh, Marcus Kiew, Shayna and Hui Fen trying to make Singapore proud amongst the 146 athlete pool from 50 countries.
After twelve games and three days, Hui Fen and Shayna made it into the top 32 to qualify for step 2. Step 2 was played using a point format with eight bowlers per group. Each bowler was awarded points after each game with the top bowler getting 7 points, second bowler getting 6, third bowler getting 5 and so forth. The top 2 bowlers would proceed to Step 3 after the accumulation of points over 8 games. Shayna and Hui Fen then made the cut for Step 3 alongside 6 other bowlers, bowling the same point format.
After another 8 games, the field got culled to 4 bowlers to move on to the semi-finals. Shayna placed third and faced second seed American Kelly Kulick. Hui Fen placed fourth and avoided an all-Singaporean semi-final by meeting top seed Shannon Pluhowsky.
A one game play-off then commenced for the semi-final with Shayna quickly dropping out of the race with three open frames in the first five. Defending champion Kulick went on for an easy 215-172 victory. The other semi-final had Pluhowsky going toe to toe with Hui Fen, matching her in almost every frame. It went down to the wire with Pluhowsky striking out for a 237 pinfall forcing Hui Fen to need the strike in the tenth frame and at least a nine in the second shot. Hui Fen released the ball and seven pins fell and the domino effect caused two more pins to fall belatedly, giving her the much needed nine and spare to achieve a 238 pinfall.
Hui Fen faced off with Kulick looking to defend her title and the open third frame gave Kulick the confidence to go on a roll with four strikes in a row. However, Kulick's own open frame in the tenth gave Hui Fen the opportunity for a win if she struck home. The fairy tale came to an end however, when the ten pin was left standing for her to spare. The final scoreline of 214-195 belied the intensity and closeness of the match. Nevertheless, we would like to congratulate Hui Fen and Shayna for a job well done.