Strong showing by Singaporean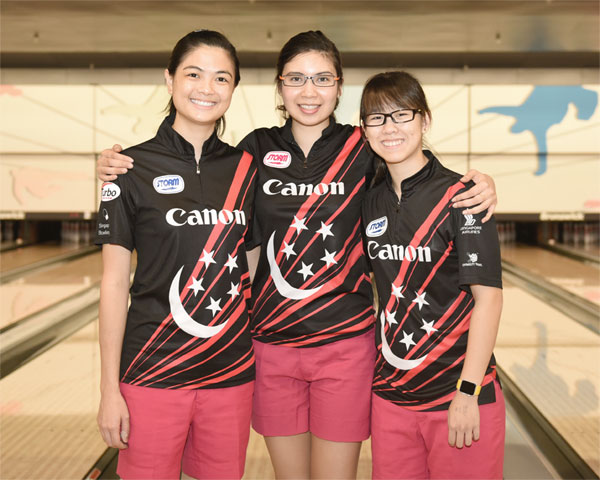 27th September, Hong Kong: Team bronze medallists, Joey Yeo and Jasmine Yeong-Nathan put in a strong showing at the Target 24th Asian Tenpin Bowling Championships to finish second and fifth positions in the Women's Masters first block finals.
Team silver medallist, Shalin Zulkifli of Malaysia set the early pace with a win in her first match over team-mate, SIn Li Jane 235-217 to take the lead followed by Esther Cheah, who beat her team-mate, Syaidatul Afifah, 227-223.
Yeo lost to Daphne Tan in her opening match, 211-224 while a third Singaporean finalist, Jasmine also lost Victoria Chin of Malaysia, 210-222.
But the 2015 Bowling World Open champion shot the highest game of the block to defeat Cheah, 266-204 to take over the lead. Team gold medallist and triple silver medallist, Baek Seung Ja of Korea won her first match and lost her second to trail Yeo by one pin.
Shalin regained the lead after the third match before Yeo bounced back with another win in her fourth match to retake the lead followed by triple gold medallist, Jung Da Wun of Korea in second.
Joey Yeo finishing a good second in the first block
Yeo held the lead for another game with a win in her sixth match but Baek moved ahead of Yeo after rolling a big game of 278 in the seventh match. Although the Korean lost her eighth and final match of the block, she went on to claim pole position with 1853 from a total of six wins.
Yeo finished second with 1840, just 13 pins adrift also from six wins. Shalin clinched third spot with 1791 from five wins while Jung finished fourth with 1776 from six wins.
Jasmine rounded out the top five with 1768 but only winning four out of the eight matches contested. Daphne ended in the top ten in ninth position with 1727.
Meanwhile, Japan's Shogo Wada topped the men's division with 1882, two pins ahead of triple gold medallist, Michael Mak of Hong Kong in second with 1880. Tomoyuki Sasaki of Japan took third spot with 1844. No Singapore men made the finals.
The finalists will resume with another seven matches after which a position-round match will be played to determine the top three men and top three women advancing to the TV finals for the final gold medal of the championship.
Thre Masters finalists, Daphne, Jasmine and Yeo
Korea and Hong Kong has three gold medals and two bronze each and if Korean women and Hong Kong men win the Masters gold medal, Korea will emerge as overall champion with the four silver medals which Hong Kong has none.
Detailed scores: Women's Masters Block 1 | Men's Masters Block 1 | Photo Album.
Photos by Terence Yaw in Hong Kong.