Singaporean secures No. 2 seed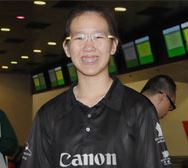 13th September, Hong Kong: All Events gold medalist, Joey Yeo Ruoqi of Singapore secured No. 2 seed for the 17th Asian Youth Tenpin Bowling Championships stepladder Masters finals at the Hong Kong Sports Institute.
Earlier in the day, Ji Eun Sol of Korea had tied the first block of round-robin matchplay Masters finals with Joey Yep Ruoqi of Singapore on a total of 1732 followed by another Korean and Singles gold medalist, Choi Ae Rim.
Eun Sol remained in the lead by winning the opening match of the second block and Yeo trailed in second after losing hers despite scoring a 212 game.
Three strong wins and a big game of 279 in the 11th match moved a third Korean and All Events silver medalist, Kim Jin Sun into the lead as Yeo continued to trail in second.
The Singaporean fought on galantly to take a brief lead after the 13th match when the Korean lost two consecutive matches but Jin Sun bounched back to regain the lead and went on to claim top seed for the stepladder finals with 3498.
Yeo secured No. 2 seed with 3443, winning 11 out of the 16 matches played while Ae Rim took the third and final stepladder spot with 3423.
"Winning the Team silver medal and the All Events gold medal has boosted by confidence," said Yeo after a tiring two blocks of 16 matches palyed in one day.
"The stepladder finals is going to be moved to a different bowling centre and the conditions there could be completely different and will be extremely challenging. I hope I can adapt quickly and do well.
"The Koreans are very good and it's not going to be easy to beat both of them in order to win the gold. I'll do my best to bring home another gold for Singapore."
A third Korean, Kim Hee Bin finished in a distant fourth with 3315 while the first block leader slipped down to seventh with 3286. Ilma Nur Jannah took eighth position in the finals with 3272.
Yeo will meet the first Korean in the semi-finals over one match and a win would put her closer to her second gold medal. Yeo will bowl two games against the top seed in the championship match.
Meanwhile, Korea also has two of the players in the Boy's stepladder finals. First block leader and Singles bronze medalist, Lee Ik Kyu settled for the No. 2 seed after finishing behind his team-mate, Lee Kyu Hwan.
Kyu Hwan won 11 of the 16 matches for a total of 3592, a comfortable 83 pins over Ik Kyu, who scored 3509 for second spot. Kenta Yoshida slipped one spot down to third from second in the first block with 3451.
Singles gold medalist made a late charge in an attempt to secure a spot in the stepladder finals, missed the cut to finish fourth with 3363.
The soe Singaporean finalist, Justin Lim ended his campaign to finish fifth despite winning four of the 8 matches contested in the second block. Lim had finished third in the first block to give himself a chance of making the cut.
Yoshida and Ik Kyu will square off in the semi-finals at Hong Kong Sports Institute bowling centre tomorrow. The winner will face top seed, Kyu Hwan over a 2-games gold medal match.
Korea, Indonesia and Malaysia tied in the overall medal tally with 2 gold medals each. With Indonesia and Malaysia out of the stepladder finals in both divisions, Korea will still emerge as overall champion even if Singapore and Japan win the two final gold medals.
Detailed scores: Girl's Masters Block 2 | Boy's Masters Block 2 | Photo Album.
Photos by Terence Yaw in Hong Kong.