Singaporean eyeing women's crown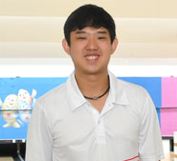 30th June, Anyang, Korea: Muhammad Jaris Goh missed an opportunity to win a first medal for Singapore at the 4th Asian Indoor & Martial Arts Games despite qualifying for the Men's Singles Quarter-finals shootout on Sunday.  
Jaris, who led the Men's Singles prelimanary Squad B after two games, had slipped away into eighth position after the fifth game but rallied on galantly in hsi sixth and final game with 226 to earned the eighth and last quarter-final spot with 1307.
Although Jaris ended ninth in the overall standings with Squad A, Park Jong Woo of Korea had to give away his place as the rule stipulated that only a maximum of two players from each NOC are allowed in the quarter-finals.
Kim Jun Yung of Korea topped the overall standings with 1383 followed by Toshihiko Takahashi of Japan in second with 1370. Squad A leader a second Korean, Cho Young Seon finished third with with 1347.
Timmy Tan of Malaysia, second in the first squad, took up fouth position with 1336. Michael Mak of Hong Kong finished fifth with 1318 followed by Yannaphon Larpapharat of Thailand sixth with 1315.
  Wu Siu Hong of Hong Kong, who was third in Squad A, took seventh position with 1311 ahead of Jaris in eighth.
Jaris faced a duanting task of meeting the top seed, Kim. Although the Singaporean had an early lead in the quarter-final match, the Korean fought back to beat Jaris, 257-226 to advance.
Kim went on to edge Yannaphon, 193-189 in the first semi-final match before eventually losing to fifth-seed, Michael Mak by 1 pin, 203-204 to settle for the silver medal. Mak dispatched fifth-seed, Toshihiko 243-210 in the over semi.
The champion also beat Timmy Tan, 224-202 in the quarter-final rounds to rach the semi. Javier Tan, who was in the second squad, ended in 24th position in Squad B and 36th overall with 1212.
Keith Saw, who had a great start with his opening game of 247, faded off to finish 34th position in the first squad and 68th overall while Joel Tan was 22nd in the same squad and 53rd overall.
  Competition will resume with the Women's Singles in one squad and the top 8 finishers will advance to the Quarter-finals shootout.
Detailed scores: Men's Singles Quarter-Finals | Men's Singles Combined | Photo Album.
Photos by Terence Yaw in Anyang, Korea.