Singapore women outshine the men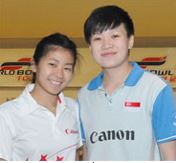 PBA-World Bowling Tour Thailand 2013 Singapore women outshone the men in the Round 2 finals of the PBA-World Bowling Tour Thailand 2013 after New Hui Fen and Bernice Lim finished first and second at DHL Blu-O Paragon on Sunday.
Top qualifier in the third bracket, Hussain Al Suwaidi of UAE got off the mark with a superb 237 to lead Tevakorn Angngen of Thailand by 5 pins with 2011 PBA-WBT Thailand second runner-up Peerawich and Singapore's Bernice Lim in close company.
A poor second game from the Emirati allowed Lim to take over the running after she followed up her first game of 222 with 224 as another Thai youngster, Atchariya Cheng moved up into second.
Hussain recovered with a 257 in the third game to regain the lead while Lim slipped down to second, just 4 pins adrift. Newly-crowned East Asian Games Masters gold medalist, Wu Siu Hong of Hong Kong followed in third.
Lim shot into the lead again after the fourth game with her compatriot, New Hui Fen moving up into second. But Hui Fen ended the round the stronger to grab pole position with 1341. Lim gave Singapore a onw-two finish with 1328.
Peerawich clinched third spot with 1319 ahead of Wu in fourth with 1267. Hussain and Phomephum Yakasem of Thailand tied fifth spot 1262. Atchariya took seventh position with 1249.
Malaysia's Kang Bo Long, Thailand's Atittarat Cheng and a second Malaysian, Noor Afizal Azizan made up the top 10 to advance into the next round in eighth to tenth positions.
The top 10 will be joined by the 16 qualifiers from the second bracket for another 6 games in Round 3 finals later this evening. The top 12 finishers plus the 8 seeded qualifiers from the top bracket will contest Round 4 finals tomorrow morning.
Detailed scores: Round 2 Finals | Photo Album.
Photos by Terence Yaw in Bangkok.