Singapore women in title hunt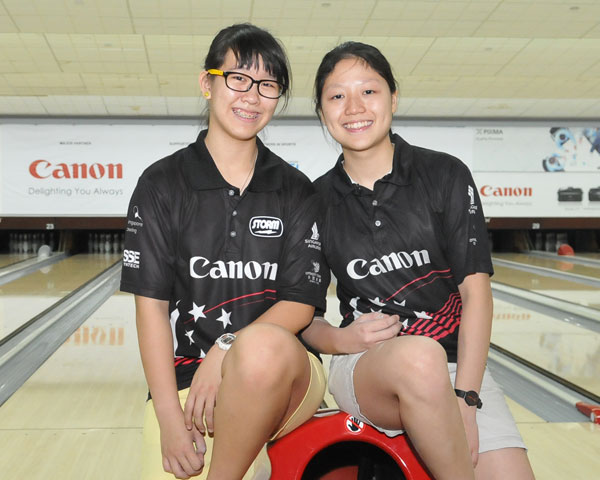 6th June, Singapore: 2012 Asian School triple gold medalist, Joey Yeo Ruoqi and Kristin Quah Wen-Mei hit their form during the Women's Open Round 1 Masters finals of the 47th Singapore International Open to finish second and third to defending champion, Sin Li Jane of Malaysia.
Quah set a blistering pace with a 255 opening game to lead team-mate, Amanda Ng by 19 pins in second with Jazreel Tan and Daphne Tan up with the leading duo. A stunning 278 in the second game by Joey Yeo gave her the lead as Li Jane closed in.
Yeo held the lead after the third game despite managing ony 198 with Li Jane narrowing the gap down from 24 pins to just 2. The Malaysian proved too handful when she rolled 256 to Yeo's 247 to take over the running.
But Yeo bounced back brilliantly with 248 in the fourth game to regain the lead at the halfway mark as well as opening up a gap of 37 pins over the two-time Singapore Open champion, Li Jane.
Although Yeo followed it up with 221 and 204 in her next two games, Li Jane bowled much more consistently with 226 and 248 to overtake the Singaporean.
Li Jane ended strongly with 254 to end the round with 1876, 76 pins ahead of Yeo, who managed only 190 in her eighth and final game for a total of 1800. Quah came home in third with 1772 and Daphne Tan took fourth position with 1738.
"During the qualifying rounds, I was still looking for the best line to bowl in order to score well," said the 16-year-old national rookie, Joey Yeo.
"Fortunately I persisted and found a good combination of bowling balls and line to bowl to get me the scores I needed to do well. I'm glad to advance into the next round and I'll ensure I keep my focus and composure for another good run tomorrow."
Rebecca Voukolos of Australia and newly-crowned Malaysian International Open Women's champion, Cherie Tan tied fifth position with 1679.
Malaysian women also gave a good account for themselves with Shalin Zulkifli and Sharon Koh taking up seventh and eighth positions with 1674 and 1661 respectively. Chinese Taipei's Tsai Hsin Yi and Macau's Julia Lam finished ninth and tenth positions.
Amanda secured her place in the next round in 11th while Jazreel Tan, who was in 15th position before the final game, shot 236 to also secure her place in 12th position. Alisha Iman Cheong of Malaysia missed the cut in 13th, just 8 pins away.
Other Singapore women in the finals were Geraldine Ng (14th), Jasmine Yeong-Nathan (16th) and Bernice Lim (22nd) did not survive the cut in the top 12.
The top 12 women will be joined by the 3 local and 3 overseas seeded qualifiers for another 8 games Round 2 finals tomorrow. The top 4 at the end of the round will advance to the stepladder finals.
Detailed scores: Women's Open Round 1 Finals | Photo Album.
Photos by Terence Yaw.