Singapore tops medal standings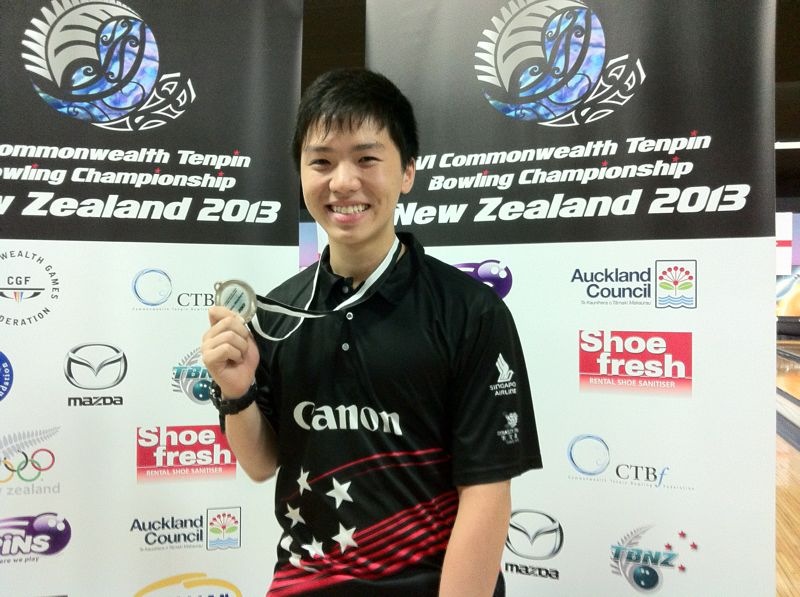 3rd March, Auckland: Singapore topped the medal standings of VI Commonwealth Tenpin Bowling Championships 2013 after Javier Tan won his first individual silver medal in the Masters finals.
Javier Tan, who was fifth after the first block with six wins, added another five wins in the second block to finish third with 2726 to advance into the stepladder finals. Australia's Sam Cooley advance as top seed followed by England's Christopher Oats in second.
Tan narrowly defeated Oats 177-169 to face top seed, Cooley in the title match. But the Aussie was too strong for Tan to handle going down 181-249 to settle for the silver medal while Cooley claimed his second.
In the women's division, Bernice Lim missed the cut for the stepladder finals despite moving up from sixth in the first block to fourth with 2548 pinfalls. Malaysia finished one-two with Siti Shazwani in pole with 2717 and Dayang Khairuniza second with 2716.
Joanna Attard of Malta clinched the third and finals stepladder finals pot with 2566. Dayang eliminated Attard, 181-140 to set an all-Malaysian finals.
The second seed went on to beat her team-mate and top seed, Siti 199-188 to finally land Maaysia's first gold medal while Siti earn the silver.
Singapore emerged champion in the medal standings with a medal haul of 3-2-0 while Australia finished second a haul of 3-1-1. But Australia won the Triple Daimond Trophy with a team total pinfalls of 20367 and Singapore second with 20211.
The team will return home at Changi airport on SQ 286 on March 4. SingaporeBowling is organising a welcoming reception. Please contact 8201 8417 for exact arrival time.
| Photo Album |
Photo courtesy of Barry Lynch.