Singapore, Korea captures Masters gold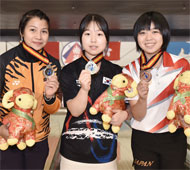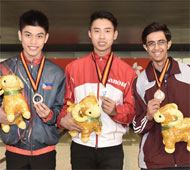 31st July, Hong Kong: Top seed, Kuek Qi En of Singapore A and Kim Dong Yo of Korea A captured the prestigious Boy's and Girl's Masters gold medals of the NTGCC 16th Asian School Tenpin Bowling Championships which concluded on Friday.
First block leader and top seed, Kuek got off to a flying start in the first of the two-games total pinfalls championship match with eight strikes-in-a-row leaving challenger, Ivan Malig of Philippines A stunned.
An early split in the Filipino's first frame and another in the fourth frame, left Malig trailing his opponent by 83 pins as the Singapore took the first game, 268-185. It became a formality in the second game and Kuek cruised to a comfortable 203-183 to win the only gold medal for Singapore, 471-368.
Malig, who settled for the silver medal, had earlier defeated second seed, Jassem Al Murakhi of Qatar A, 216-183 in the semi-final match to advance to the title match.
The champion topped the second block round-robin Masters finals winning five matches which including the position-round match for a 16-match total of 3801 to advance as top seed.
Jassem, who was fourth before the position-round match, defeated team-mate, Bader Al Deyab 234-205 to make the stepladder finals in second position with 3645. Malig, who was sixth, made the stepladder finals in third with 3643 after he beat his opponent 238-213.
Lim Seong Yul of Korea B, who was second, lost in the position-round to Kuek, 197-247 to miss the cut by two pins and ended in fourth position with 3641. Bader slipped to fifth with 3636.
Overnight second-placed, Alex Yu of Hong Kong A, finished seventh with 3586 while Aidah Poh of Singapore, who was fourth in the first block, ended in ninth position.
Meanwhile in the Girl's division, it was heartbreak again for top seed, Nora Lyana Natasia of Malaysia when she lost the two-game title match to third seed, Kim Dong Yo of Korea A, 386-411. The Malaysian had settled for the Team and All Events silver medals but looked a top contender for the gold after topping the second block finals with 3666.
Undoubtedly, the star of the championships was the Korean champion, who had picked up the first gold in the Singles and helped Korea clinched the Team gold medal. She also earned a bronze in the All Events.
Kim, who was second before the position-round match, lost to Nora Lyana, 186-222 and nearly missed the cut for the stepladder finals.
Shion Izumune of Japan helped the Korean by beating Wakana Mizutani, 224-174 in the position-round match to advance in second with 3505 while Kim held on to third with 3467.
Doubles and All Events gold medalist, Kim Jun Ji of Korea B lost the position-round match to sixth-placed, Faten Najihah of Malaysia and failed to advance.
Kim sailed past Izumune, 243-193 in the semi-final match to meet the top seed. She took the first game, 215-190 and despite tieing the second game with 196, the 25 pins cushion she had from the first game, sealed the victory and her third gold medal.
Korea A Team took the Girl's overall title with three gold and 1 bronze medal while Japan took the Boy's overall title with two gold and two silver medals. Although Korea A also had two gold medals, it was the two silver that made the difference.
Korea A Team emerged as the Overall Champion with five gold and two bronze medals. Japan came in second with a medal haul of 2-2-2 and Singapore finished third with one gold and one bronze medal.
Players and officials adjourned to the Victory Banquet held at Rotunda Ballroom at the Kowloon Bay International Trade and Exhibition Centre which was graced by guests of honor, Ms Michelle Li, JP, Director of Leisure & Cultural Services of Leisure & Cultural Services Department and Mr Gabriel Au, Vice Chairman of NTGCC.
Ms Vivien Lau, BBS, JP. Chairman of Hong Kong Tenpin Bowling Congress, Honorary Life President of Asian Bowling Federation and Secretary General of World Bowling delivered her farewell speech. Ms Michelle Li presented the trophies to the girls, boys and overall champions.
76 boys and 58 girls comprising of 34 teams from 13 countries took part in the week-long NTGCC 16th Asian School Tenpin Bowling Championships, hosted for the fourth time by Hong Kong.
Detailed scores: Boy's Stepladder Finals | Girl's Stepladder Finals | Boy's Block 2 Masters | Girl's Block 2 Masters
Photo Album.
Photos by Terence Yaw in Hong Kong.