Singapore earns team bronze medal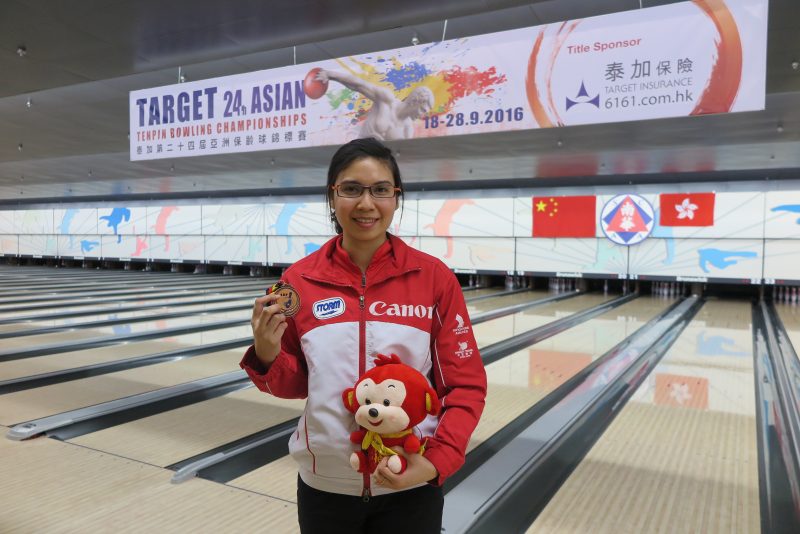 28th September, Hong Kong: Third-seed, Jasmine Yeong-Nathan took home Singapore's second bronze medal at the Target 24th Asian Tenpin Bowling Championships after finishing third in the Men's Masters event on Wednesday.
The 27-year-old national bowler was ousted 224-177 by second-seed and triple gold medallist, Jung Da Wun in the semi-final stapladder match, settling for the bronze. Yeong-Nathan had earned a place in the stepladder finals after hauling herself up to third from fifth place following the first block of eight game on Tuesday.
Jung went on to beat top seed and compatriot, Baek Seung Ja, 440-364 over an all-Korean two-game title match to capture her fourth gold medal of the championships. Baek had earlier topped the second block finals with 3794, 223 pins ahead of Jung in second with 3571.
Filipina, Liza Del Rosario missed the cut by 57 pins in fourth position. Jeoy Yeo of Singapore, who was second in the first block, managed only three wins to slip down to fifth with 3410 from a total of nine wins over two blocks
"It's been very exhausting," said Yeong-Nathan after the stepladder finals. "But it's the same for all championships – long hours in the alley, always tough lanes.
"No doubt everyone was trying their best that they could. We made moves together as a team, worked well as a team."
Jasmine Yeong-Nathan earning the bronze medal
Hong Kong emerged as overall champion of the men's division with three gold, one silver and two bronze medals. Malaysian men finished second with a medal haul of 2-1-2. Japan was third with a haul of 1-1-1.
Korea dominated the women's division to become a clear overall champion with four gold, 5 silver and 1 bronze medal. Malaysia again finished second with a haul of 1-1-2 while Japan, with one gold took third spot. Singapore
Detailed scores: Women's Stepladder Finals | Men's Stepladder Finals | Photo Album.
Photos by Terence Yaw in Hong Kong.