Singapore cracks top bracket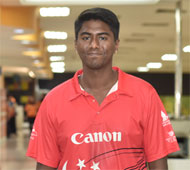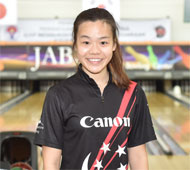 23rd October, Sitra, Jakarta: Suresh Elangovan of Singapore put in a stunning performance to crack into the top bracket of the Men's Open Masters qualifying leaderboard to earn a bye for Stage 2 Finals of the 13th Indonesia International Open.
Suresh, 23 who had already assured himself a place in the Masters finals with 6-game total of 1455, improved his lower 3-game series of 717 with a splendid 738 for a new total of 1516.
The new total allowed the Singaporean to leapfrog into second position of the overseas pool and crucially skipping Stage 1 finals. 2015 ABF Tour Macau leg champion, Michael Mak of Hong Kong remained in pole with 1537.
Defending champion and Korean pro, Jeong Tae Hwa made the top bracket in third after he also improved his total from 1417 to 1483. SEA Games Singles silver medalist, Annop Arromsaranon of Thailand, who had breifly taken third spot, slipped back down to fourth with 1483.
The Thai and the Korean will have to break the tie in a one-game roll-off for the bye. 2014 Asian Games Masters silver medalist, Wu Siu Hong of Hong Kong rounded out the top five with 1478.
Newly-crowned Youth Boys Under-20 champion and 2013 Asian Youth triple gold medalist, Billy Muhammad Islam took over top spot in the local pool with a stunning 1482. 2015 Asian Championship Masters gold medalist, Ryan Lalisang settled for second with 1462 while 2011 SEA Games Team bronze medalist, Oscar earned third spot with 1421.
Other Singaporean national bowlers, Muhd Suhaizan, Ahmad Safwan, Jonovan Neo, Cheah Ray Han and Brandon Ong have yet to make the cut.
In the Women's division, defending champion, Bernice Lim stood firmly unchallenged as she retained top spot with 1425. Malaysia's Alisha Imam also remained second with 1393. Macau's Fiona Ku surprised the field to finish third with 1319.
Singapore's Tay Hui Wen made the cut in seventh position with 1246 while Tracey Alyson Lin finished ninth with 1234.
Two-time Indonesia Open champion, Sharon Limansantoso led the local pool with 1400 followed by 2015 H.H. Emir Cup champion, Tannya Roumimper in second with 1397 and newly-crowned Youth Girls Under-20 champion, Nadia Pramanik third with 1381.
Last year's cut for the Men's Open division was 1405 and as of 5.00pm squad, the last position went Jimmy Cheung of Hong Kong with 1399.
Qualifying will end late this evening and the Stage 1 finals for Men's and Women's Open division will be held at 1.00pm local time.
Detailed scores: Men's Open Qualifying | Women's Open Qualifying | Photo Album.
Photos by Terence Yaw in Jakarta.