Singapore awarded Top Country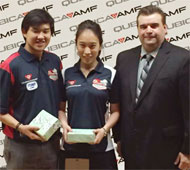 19th November, Las Vegas: Singapore was awarded the top country at the 51st QubicaAMF Bowling World Cup on Thursday after Muhammad Jaris Goh finished second runner-up and Geraldine Ng tied third-runner up.
Muhammad Jaris completed the Men's Top 8 round in third to advance to the stepladder finals. Muhammad Jaris had an open frame in the semi-final against second-seed Wu Siu Hong of Hong Kong and never caught it back in the first game losing 173-189. Hong then started the second game with a turkey and never looked back, winning by two games to zero, 223-194.
Wu opened the first two frames in the final against top seed, Francois Louw of South Africa but started striking in the fifth frame, including a really lucky strike in ninth, to win the first game 233-219.
A big split in frame three really hurt Francois, while Wu stayed clean, running out the winner by 223-180.
"At the beginning I was bowling too fast and those two open frames meant a bad start," said Wu after the match. "Then I changed my ball and found my form, just taking it shot by shot.
"I feel fantastic. This is the fourth time I have played in the World Cup and my best position was ninth, so I finally feel I've done it. It fills me with confidence and it shows Hong Kong people can do it. Now I just want to come back next year!"
In the women's section, Geraldine Ng tied fourth spot with 8587 winning four and losing four matches in the Top 8 rounds. But her effort earned Singapore the top country.
The women's final was between Clara Guerrero, the defending champion from Colombia, and Shanon Pluhowsky of USA, who was bidding to become the first woman to win the title three times.
But Pluhowsky never found a line so Guerrero won the first game, 202-177. The Colombian went on to win the second game 243-238, becoming the sixth woman to win the World Cup twice.
"It was a tough final. Shannon is such a tough competitor, and I knew if I could only get in front I would stand a chance," said the champion, who has won everything she can possibly win, was also delighted.
"And I made the good shots when I needed to. I really want to come back next year and try to win for the third time and set a record!"
Pluhowsky had earlier defeated third-seed, Maria Bulanova of Russia, 219-174, 177-242 and 238-194 to face Guerrero in the finals.
QubicaAMF have announced that the 52nd QubicaAMF Bowling World Cup 2016 will be held in Shanghai, China.
Detailed scores: Stepladder Finals | Men's Top 8 Rounds | Women's Top 8 Rounds | Photo Album.
Photos courtesy of Hero Noda, QubicaAMF.