Silver for Singapore girl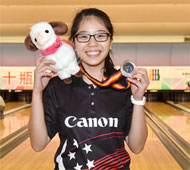 25th March, Macau: 2014 Asian Schools two gold medalist, Joy Yap added a silver medal for Singapore after finishing second to Nora Lyana Natasha of Malaysia in the Girl's Singles event at the 18th Asian Youth Tenpin Bowling Championships.
Emily Rigney of Australia had a great start after rolling 248 in her opening game to lead Lee Yeong Seung of Korea by 2 pins with Joy Yap of Singapore a further 9 pins away in third.
Yap added a superb game of 226 in the second game to take over the running hotly pursuit by Nora Lyana in second, just 6 pins away followed by Lee third as the Australian dropped off after a poor game of 169.
Nora Lyana posted a strong 247 in the third to move 6 pins ahead of Yap at the halfway mark with the Korean maintaining third spot. The Malaysian continued her hot pace with 226 in the fourth game to hold the lead.
The lead changed hands after the Singaporean posted stronger fifth game of 233 to lead Nora Lyana by 4 pins going into the sixth and final game.
But the 18-year-old Nora Lyana ended with a higher score of 210 in the final game to snatch the gold medal by 15 pins with 1359.
"I knew the difference between me and the Malaysian was very close and I had to stay focus for my last game," said the 19-year-old Yap, who won the Singles and Doubles gold medal at last year's Asian Schools Championships in Indonesia.
"I just couldn't get the carry I needed despite making changes to the line I was bowling after the lanes were getting much drier. But I'll take this silver medal and move on to my next event."
Yap settled for the silver medal with 1344 while 2014 Asian Games Team bronze medalist, Alisha Nabila of Indonesia stormed home with 245 to clinch the bronze medal with 1308. Byun Sun Min of Korea missed the podium by 9 pins with 1299.
Kristin Quah finished seventh with 1257, 51 pins off third while Ilya Syamin, who was pacing Yap, was eighth with 1254. Charlene Lim took 13th position with 1220.
The girls will resume with their Doubles event on March 27 while the boys will contest their Doubles event tomorrow.
Detailed scores: Girl's Singles | Photo Album.
Photos by Terence Yaw in Macau.