Second Singapore women moves into third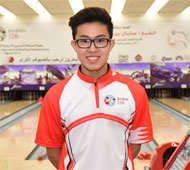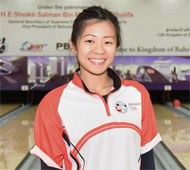 4th March, Sitra, Bahrain: 2015 Asian Championships Team silver medalist, Bernice Lim of Singapore topped Squad F in her second attempt to move into third in the overall qualifying standings at the PBA-WBT #9 13th Kingdom of Bahrain Open.
Lim got off the first block with a stunning 273 for an early lead. The two-time Indonesia Open champion followed it up with 202, 222, 215, 212 and 219 to end the 6-games series with 1385.
Lim's improved effort move her into the top bracket in third with an average of 230.83 behind PBA pro, Tom Daugherty of USA in second with 231 average after taking Squad D with 1386.
Perfect gamer, Marshall Kent of USA slipped down to fourth with 2764 averaging 230.33 while Ryan Ciminelli of Cheektowaga, N.Y., who finished second to Daugherty with 1378, joined the top bracket in fifth.
Finishing second behind Lim in Squad F was 2015 Asian Championships Masters gold medalist, New Hui Fen, who headed the second bracket with an improved 228.50 average. Squad E leader and 2013 Bahrain Open champion, Mika Koivuniemi was knocked off the top bracket into eighth.
Mke Fagan of FortWorth, TX, USA held the second bracket cut in 12th position averaging 223.17. Yousif Falah of Bahrain, who finished third to Lim in Squad F, headed the third bracket with 222.17.
Jazreel Tan's effort in Squad B kept her in 14th position alongside team-mate, Cherie Tan in 16th position and Daphne Tan in third bracket cut at 18th position.
Joel Tan was Singapore's best performer and only men qualifier improving his average in Squad E to 217.83 and heading the fourth bracket as the cut goes up to 215 average occupied by Rakan Al Ameeri of Kuwait.
2012 Bahrain Open champion, Osku Palermaa of Finland is off the cut in 31st position with an average of 214.67. Justin Lim of Singapore occupied 39th position and only 32 pins off the cut. Squads D, E and F will complete their second block of 6 games and the final qualifying standings will be finalised.
Detailed scores: Qualifying Standings | Squad F Block 1 | Squad E Block 1 | Photo Album.
Photos by Terence Yaw in Bahrain.