Promising start for Singapore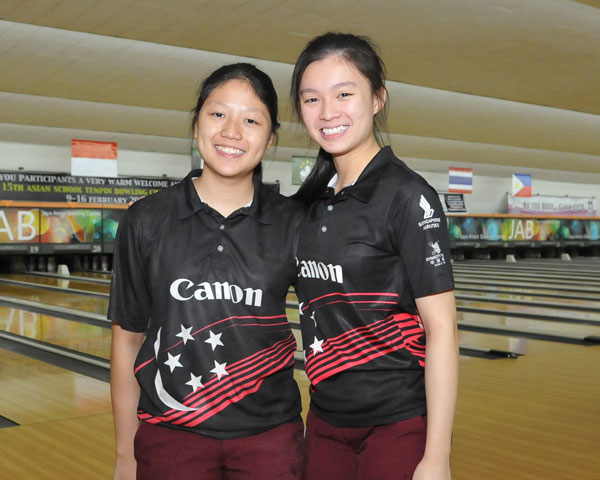 12th February, Jakarta: Kristin Quah, Charmaine Lim and Marcus Kiew made a promising start for Singapore Team A when the they ended the opening squad 15th Asian Schools Bowling Championships second and third in the Girl's division and third in the Boy's division.
Quah started off better with 195, 236, 279 and 249 to take up second after four games, 58 pins pin behind pace-setter Futaba Imai of Japan in the lead and Mirai Ishimoto third. Lim kept pace with the leading trio with 205, 241, 215 and 234.
The Japanese increased her lead to 61 pins with Quah still in second after the fifth game and Lim in third a further 6 pins away.
Despite ending the final game with 236 for Quah and 232 for Lim, Ishimoto completed the squad with 225 for the lead on a total of 1445. Quah and Lim settled for second and third with 1395 and 1385 respectively.
Daphne Oh of Singapore B finished seventh with 1322 while Charlene Lim Jia Yi took 12th position with 1264.
Futaba Imai also erased the 2009 6-games record of 1413 set by her compatriot, Misaki Mukotani with her 1445.
Meanwhile, Japan's Katsuhito Nakano was simple too good for Singapore A's Marcus Kiew Jia Wei. The 18-year-old Fukouka Daichi High School student in his third Asian School competition, rolled the tournament's first 300 in the third game for a runaway lead with 1515.
Nakano smashed the 2000 record of 775 set by Zulmazran Zulkifli of Malaysia with 846 in his first 3-game series. Adam Svensson of Australia A, who set the opening pace, settled for second with 1471.
Kiew, who was second after the fifth game, managed 184 in his last game to slip down to third with 1436. Takuya Miyazwa of Japan and Korea B's Han Se Yong rounded out the top 5, who surpassed the 1400-mark.
Jonovan Neo Ze Min and Timothy Tham of Singapore B finished 10th and 17th positions with 1359 and 1235 respectively.
Squad B will take to the lanes for their 6-games Singles and the combined scores will determine the winners of the first event of the championships.
Detailed scores: Girl's Singles Squad A | Boy's Singles Squad A | Photo Album.
Photos by Terence Yaw in Jakarta.