Malaysians stamp their mark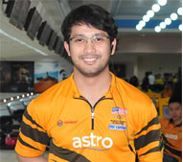 28th May, Singapore: Malaysian national bowlers stamped their mark at the on-going qualifying rounds of the 46th Singapore International Open as Zulmazran Zulkifli and Esther Cheah topped the Men's and Women's Open standings on Tuesday.
Zulmazran, three-time winner of the Malaysian Open in 2012, 2009 and 2008, has never made the stepladder finals of the Singapore Open thus far. After a slow start in his first two attempts, the 29-year-old eventually found his line to reel in 759 and 686 to move into pole position with 1445.
"I've never had the luck needed to do well here but I'm all pumped up for this time," said Zulmazran. "There has been a lack of tournaments bowled this year and it is championships like this one that can really tuned us up.
"But doing well in the qualifying rounds don't count much as the finals is more important. I'm determined to turn around my luck and hopefully will make the stepladder finals."
Thai youngster, Dechochai Tinjiratip, who led briefly before the 6.00pm squad, slipped down to second after improving his 6-game tally to 1397. Malaysian sensation and 17-year-old, Rafiq Ismail took up third with 1395.
A third Malaysian, Alex Liew notched up impressive series of 708 and 688 to take up fourth with 1394 while 2004 Singapore Open, Tim Mack of USA rounded out the top 5 with 1328.
Over in the local pool, 2012 Malaysian Open first runner-up, Keith Saw stole the limelight after taking over the lead in the standings with 1396. Overnight leader, Benjamin Hong settled for second with 1353.
Keith's brother, Howard Saw also impressed with 1348 to finish third as Basil Low and Marcus Leong completed the top 5 with 1339 and 1334 respectively.
Muhd Jaris Goh of Singapore headed the mixed pool with 1285 while the current cut at 12th position is held by Chinese Taipei's Chen Hung-Chih with 1232.
Malaysian women dominated the women's division by occupying the top 5 positions of the overseas pool. 2012 Hong Kong Open and 2012 Daejeon Open champion, Esther Cheah headed her team-mates with 1334.
Shalin Zulkifli took second spot, 9 pins behind Esther with 1325 followed by 2011 Women's World Championship gold medalist, Jacqueline Sijore third with 1312. Another three-time Malaysian Open champion, Zandra Aziela finished fourth with 1306 as Siti Safiyah completed the top 5 with 1301.
2013 DHC International Open, Cherie Tan remained in the lead of the local pool with 1413. Her team-mates, New Hui Fen and 2013 DHC International Open champion, Shayna Ng also remained second and third with 1362 and 1324.
Cecilia Yap of the Philippines is the current cut at ninth position in the mixed pool with 1191 as Syaidatul Afifah of Malaysia topped the mixed pool with 1238.
Qualifying for the Open division will continue for another two days and the first Masters finals will be contested tomorrow morning for the Men's Graded B and Women's Graded and in the evening for the Men's Graded A.
Photos by Terence Yaw in Singapore.