Jaris, Leong receives Atos SE Awards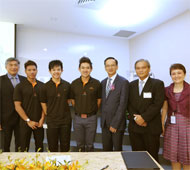 19th June, Singapore: Singapore national bowlers, Marcus Leong Guo Rui received the Atos Sports Scholarship and Muhammad Jaris Goh Ali Akbar Goh, the Atos Sports Excellence Award during the official opening of ATOS Asia Pacific Office at Toa Payoh on Thursday.
The sports scholarship and sports excellence award were presented by Atos Information Technology (S) Private Limited, a partner of the Singapore 2015 Southeast Asian Games Organising Committee.
Marcus's scholarship fully covers his school fees and boarding fees for the three-year Republic Polytechnic-Singapore Sports School Sport and Leisure Management Diploma programme of which S$4,900 will be disbursed each year, for three years.
Atos created the Atos Sports Excellence Award to encourage Jaris in his preparation for the Sea Games. The award is worth S$12,000.
Atos in Singapore is the regional headquarters for Atos in Asia Pacific and was awarded the International Headquarters Status by the Economic Development Board in 2005. The company is part of Atos SE (Societas Europaea), an international information technology services company with annual 2012 revenue of Euro 8.8 billion and has 77,000 employees in 47 countries.
Atos is also the Worldwide Information Technology Partner for the Olympic and Paralympic Games and is quoted on the NYSE Euronext Paris market.