Impressive display by SIngapore women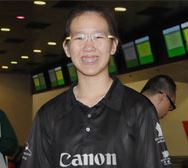 8th June, Hong Kong: National bowlers competing at the 39th Hong Kong International Open put in an impressive display after Joey Yeo Ruoqi led Singapore's title challenge by topping the Women's Open qualifying standings on Saturday.
Yeo, who has yet to pick up her first international title since being promoted to the national training squad, notched up two 3-game series of 621 and 594 for a total of 1215 to go top of the standings.

The 16-year-old 2012 SSSC Best Girl Award winner came close to winning when she led the first stage of 2012 Thailand Open, missed the stepladder cut. Yeo won three gold and a bronze medal at the 2012 Asian Schools in Jakarta and the 2011 Milo All Stars U15 crown.

Joy Yap took second spot in the table with 1199 while Tracy See, who led briefly, settled for third with 1192 to give Singapore a one-two-three finish.

Kristine Kuah and Ilma Nur Jannah made the cut in fifth and seventh with 1179 and 1171 while Kimberly Ooi occupied second in the mixed pool with 1119.

Joey Yeo Ruoqi leading the overseas pool

Singapore's last Hong Kong Open winner was Shayna Ng in 2011 and judging from the form shown by the national team, the title could well be on its way back to the island.

Ex-national, Sonia Ho topped the local table with 1209 followed by early leader, Gloria Yeung in second and Melody Yeung third with 1160 and 1143 respectively. National bowlers, Milki Ng, CHan Shuk Han and Zoe Tam are the top 3 local seeded qualifiers.

Meanwhile, Singapore were less impressive in the Men's Open division with Alexander Tan being the best performer and managing to finish tenth in the mixed pool with 1278. Andrew Frawley of Australia topped the overseas pool with 1393.

Macau's Zoe Dais Ma and 2012 World Youth All Events gold medalist, Sam Cooley finished second and third with 1389 and 1388. Muhd Danial Zheng Ye and Alex Chong have yet to make the cut.

Wicky Yeung took over the lead of the Men's Open local pool with 1470 ahead of overnight leader, Achilles Hung in second with 1446. 2012 ABF Tour Macau leg champion, Rickle Kam took third spot with 1423.

Three-time Hong Kong Open champion, Wu Siu Hong, Michael Mak and newly-crowned Euromed-Storm International Masters champion, Eric Tseng were the top 3 local seeded qualifiers.

Fourty-two men and 33 women will contest the 10-game Stage 1 Masters finals on June 10 with the top 18 men and top 15 women advancing to Stage 2 finals joined by the top 6 men and top 6 women seeded qualifiers for another 10 games on June 11. The top 6 men and top 6 women will advance to the stepladder shootout finals.

Detailed scores: Women's Open Qualifying | Men's Open Qualifying | Photo Album.

Photos by Terence Yaw in Hong Kong.