Huge lead for Singaporean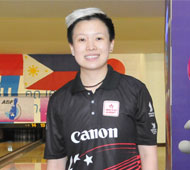 25th January, Bangkok: Trios and Team silver medalist, New Hui Fen of Singapore completed the Women's Masters first block and built up a huge gap of 251 pins over her nearest opponent at the 23rd Asian Tenpin Bowling Championships.
Hui Fen started a cracking pace by beating team-mate, Jasmine Yeong-Nathan, 279-223 in the opening match to lead Team gold medalist, Lee Young Seung of Korea by 22 pins. Despite winning her second match, Lee won her second match with a higher score of 258 to take over the running.
The Korean also won her next two matches in style with 260 and 247 to lead the Singaporean by 43 pins but then lost her fifth match with a poor game of 164 while Hui Fen won her fourth match to regain the lead.
The Singaporean was unstoppable when she set the lanes at Blu-O Rythm & Bowl Ratchayothin ablazed winning her remaining four matches with 258, 279, 257 and 246 to end the block with 2099.
Hui Fen won a total of 7 matches while Lee, who only managed to win one other match in the second half of the block for a total of 1848.
Indonesia's sole finalist, Alisha Nabila Larasati fought out the minor places with Kim Jin Sun of Korea trading third spot until the last two matches in which the Indonesia lass snatched third position with 1824.
Team bronze medalist, Dayang Khairunia, who was Malaysia's best finalist, clinched fourth spot with 1819 while Kim slipped down to complete the top 5 with 1799.
Team gold medalist and 2013 World Champion, Son Yun Hee of Korea rolled the sixth 300 in game 6 but only managed to win three matches for sixth position with 1791.
SIngapore's two other finalists, Daphne Tan and Jasmine Yeong-Nathan finished eighth and 14th positions with 1766 and 1696. Tan is in contention to make the top 3 especially she is only 58 pins behind third.
All Events gold medalist, Jung Da Wun of Korea failed to ignite ending in 15th while two silver medalist, Misaki Mukotani of Japan ended in tenth.
The women will resume their second block tomorrow at 9.00 am local time and the top 3 will advance to the stepladder shootout finals. The men will contest their second block at 1.30pm.
Detailed scores: Women's Masters Block 1 | Photo Album.
Photos by Terence Yaw in Bangkok.