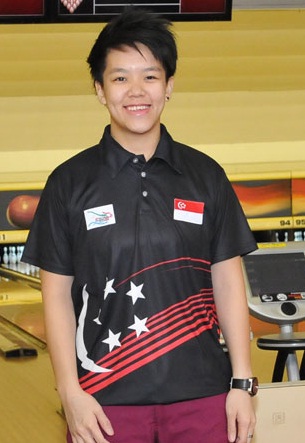 17th January, Nagoya: Reigning AMF World Cup champion, Shayna Ng of Singapore got off to a fabulous start to lead the opening block of Round 1 finals at the PBA-WBT #4 International Bowling Championships 2013 supported by DHC with Jazreel Tan in fifth.
2011 World Women's Championships gold medalist, Liz Johnson could not have asked for a better start when the American rolled the tournament's fourth 300 in her opening game of the first block Round 1 finals to lead the field of 95 finalists.
Two-time Malaysian Open champion, Zandra Aziela of Malaysia and Japan's Shimizu Hiroko trailed in second and third not far with 279 and 268 while Shayna Ng of Singapore was well placed in fourth with 267.
Despite a 244 in Johnson's second game, the American saw her lead reduced from 21 to just 9 pins as Ng followed up with a second game of 246 and Hiroko third a further 2 pins away.
Ng rounded off a great day with 279 to end block in the lead with 792 while Johnson managed 228 to take second spot with 752. The Japanese pro Hiroko held on to third with 744 after ending with 233.
Zandra took fourth spot with 718 ahead of another Singaporean, Jazreel Tan fifth with 717. Malaysian women showed their prowess with 2012 Asian Championships Singles gold medalist, Sin Li Jane taking sixth position with 709.
Defending champion, CHerie Tan tied 23rd with Matsunaga Hiromi on 668, just one spot off the cut at 24th while Geraldine Ng managed 26th position with 660, just 8 pins away from 23rd. Amanda Ng was 35th with 649.
New Hui Fen (47th-625), Daphne Tan (59th-604), Kristel Oh (65th-600) and Kimberly Ooi (69th-596) need big games in their next two blocks to try and haul themselves up into the top 24.
Meanwhile, American PBA pro Ryan Ciminelli started off with ony 226 but registered the tournament's fifth 300 in his second game before rounding off with 269 in his third to lead a field of 136 men in the first block with 795.
His fellow American and defending champion, Tommy Jones settled for second with 757 after taking the early lead. Japan's national team member, Chiba Tetsuya surprised the field by taking third spot with 738.
Newly-crowned Junior All Stars champion and 16-yer-old Rafiq Ismail of Malaysia finished fourth with 735 as American PBA pro, Mike Fagan completed the top 5 with 728.
Guam's Jay Leon Guerrero did extremely well to take up sixth position after a good effort of 728 ahead of two Japanese, Takahashi Nobuaki and Saito Yuta seventh and eight spots with 726 and 720.
World Singles champion, Chris Barnes of United States ties ninth position with Japan's Teraguchi Taku with 716. Remy Ong ended is a disappointing 75th position with 613.
The players will resume with their second block of 3 games at 9.30am local time and their third and final block at 1.00pm. The top 24 men and top 24 women will advance to the first block of the semi-finals at 4.00pm and second block at 6.30pm for another 3 games each.
The top 5 men and top 5 women after the foregoing 15-games total will make the cut for the TV Finals Elimination Round on January 18.
Detailed scores: Women's First Block | Men's First Block | Photo Album.
Photos by Terence Yaw in Nagoya.