A silver and bronze in the Masters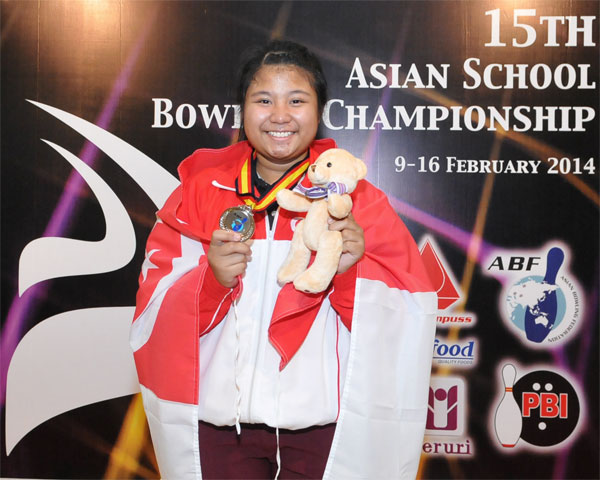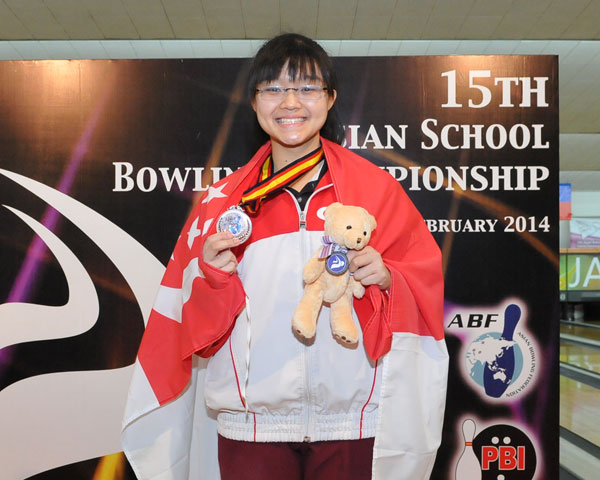 16th February, Jakarta: Iliya Syamin Muhd Anzi and Daphne Oh Xing Yi added a silver and a bronze medal for Singapore Team B after finishing first and second runner-up in the Girl's Masters finals at the concluding 15th Asian School Bowling Championships on Sunday.
Oh completed the second block Masters round-robin finals with 3901 pinfalls from six wins to leapfrog from sixth in the first block with four wins to advance into the stepladder finals in second.
Iliya Syamin, who was eighth yesterday and fourth before the position round match, beat third-placed Joy Yap Jing Ying 225-224 to clinch the third and final stepladder spot with 3886. She also rolled a perfect game in the 12th match.
Iliya defeated Oh 248-192 in the semi-finals to advance to the title match against topseed, Mirai Ishimoto of Japan, who topped the field with 4011 winning all the eight matches and six yesterday.
Topseed Ishimoto started off the title match with a double and three strikes-in-a-row from frames four to six as her opponent, Iliya Syamin Muhd Azni of Singapore B only downed a double in the fifth and sixth frames.
When the Japanese suffered a split in the seventh frame, Iliya rolled another double to take over the lead. The match came down to the final frame and Ishimoto struck home to take the match and the gold with 242 against Iliya's 236.
Yap ended in fourth and missing the cut by 23 pins on 3863 while Kristin Quah rounded out the top 5 with 3841. Doubles gold medalist, Amanda Lee finished eighth with 3703 and Charmaine Lim managed 12th position with 3511.
Singapore A missed the opportunity to come home as Girls and overall champion after Mirai Ishimoto emerged as the Masters champion to add one more gold medal to the one Futaba Imai won in the All Events.
Japan won 2 gold, 1 silver and 1 bronze while Singapore came home with 2 gold and 2 bronze medals.
Meanwhile, topseed Katsuhito Nakano of Japan finally broke the ice with a victory in the Boy's Masters stepladder match against Team gold and All Events silver medalist, Adam Svensson of Australia A, 268-267.
Both title contenders matched each other with strikes for strikes and came down to the final throw of the bouns frame in the tenth frame. Nakano, who rolled two perfect games in the Singles and Team events topped the second block with 4107 from a total of ten wins from two blocks.
Team bronze medalist, Atchariya Cheng of Thailand, who rolled a perfect game in the last match of the first block and the first match of the second block, finished second with 4099 while Svensson took the final stepladder spot in third with 4085.
Atchariya lost the semi-final match to the Aussie to add another bronze medal while Svensson settled for the silver. Australia could have emerge as the Boys champion but finished second to Korea A, who had won two gold medals from the Doubles and All Events.
Japan took top honours when they emerged as overall champion with 3 gold, 3 silver and 1 broze medal. A total of 15 perfect games were rolled by 12 bowlers. Nakano, All Events gold medalist, Hwang Sung Hyun and Atchariya Cheng were the three boys who had two perfect games each.
52 girls and 68 boys participated in this year's championship. The next 16th Asian School Bowling Championship will be hosted by Kuwait Bowling Federation in Kuwait from February 1 to 10, 2015.
Detailed scores: Girl's Stepladder Finals | Girl's Masters Block 2 | Boy's Stepladder Finals | Boy's Masters Bock 2 | Photo Album.
Photos by Terence Yaw in Jakarta.