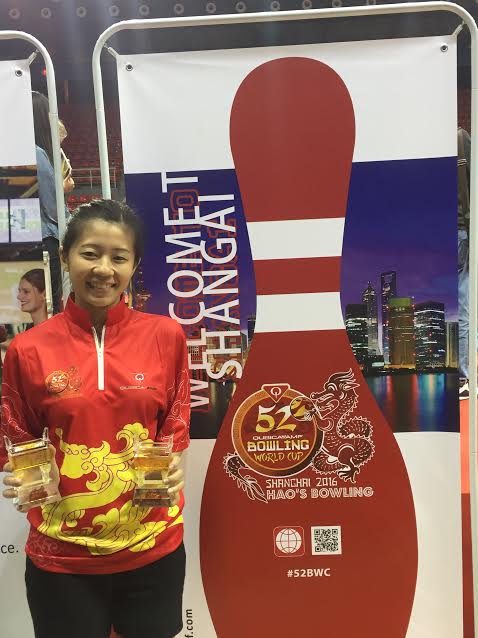 SingaporeBowling is proud to announce that Bernice Lim has placed 3rd in the 52nd QubicaAMF Bowling World Cup!
SingaporeBowling has historically done well for the World Cup with Jasmine Yeong-Nathan winning it in 2008 and Shayna Ng taking the trophy in 2012. Last year in 2015, Jaris Goh finished 3rd and Geraldine Ng finished 4th in order to claim the top nation prize. Bernice herself finished 20th back in 2009 when she was just 17 years old.
Bernice and Norman Cai won the internal roll-off and we packed them off to Shanghai to start the tournament proper. The format made them play four squads of five games for the qualifiers, with the field getting cut to the top 24 for another eight games. The field then got cut to the top eight for another eight games for a total of 36 games. Bernice took the lead from the second squad and didn't relinquish it until the semi-finals. Norman acquitted himself respectably to finish 10th overall.
After the field got cut to the top 4 for the semi-finals, Bernice found herself facing Jenny Wegner of Sweden who was seeded 4th whilst Danielle McEwan of USA who got seeded 2nd faced Syaidatul Afifah of Malaysia who was seeded 3rd. It was a one game elimination round and with open frames in the 2nd and 6th, she found herself on the backpedal for the first time in the tournament. She could not recover from the open frame in the 6th and went down to Wegner 227-204.
We called Bernice and this is what she had to say about her performance, "I felt I bowled well all week and I'm happy with how I bowled. The lanes started to get tough the last two days and I had to continue adapting to find answers. Coming into the step-ladders, I was quite confident despite the change in environment. Being in an arena like that is a first for me and it was quite overwhelming. It was unfortunate that it was a one game elimination format and I feel a little disappointed that I lost my shot at a world title in just one game."
Nevertheless, it was a gutsy performance by the 24 year old and we would like to congratulate both Bernice and Norman for flying the Singapore flag high at the Bowling World Cup!