World Cup champion triumphs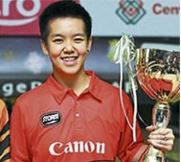 23rd November, Kuala Lumpur: 2012 World Cup champion and top seed, Shayna Ng won the Women's Masters title of the 36th Malaysian International Open to deny Malaysia a third consecutive double.
Ng, who topped the Women's Round 2 finals with an 8-game total of 1867, needed only one match to easily beat challenger and No. 2 seed, Dayang Khairuniza of Malaysia, 255-195 to win the covented title.
"It feels good to finish the year on a high because last year I finished second here. Plus, I didn't do well in the World Championships in Nevada, USA (August), so it feels good to win here," said Shayna.
Khairuniza had earlier flew past fourth-seed and Round 1 leader, Yang Su Jin of Korea and Korean professional, Han Sol, 247-181-206 in the semi-finals before going down to Ng in the finals.
Fourth-seed Han Sol dispatched two Malaysians, Siti Shazwani and Shalin Zulkifli, 235-186-183 in the first stepladder match to advance to the semi.
Ng picked up MYR15,000 (approx. S$5,830) as champion as Khairuniza settled for MYR10,000 and Han MYR7,500. Yang, Siti Shazwani and Shalin earned MYR5,000, MYR4,000 and MYR3,500 respectively.
Meanwhile, national backup squad member, Syimir Abdul Razak captured his biggest-ever international title after beating fellow team-mate and defending champion, Zulmazran Zulkifli, 259-190 in the Men's Open finals.
"I'm really happy with the win because it was something I didn't expect could happen. The competition was very tough," said the 21-year-old champion.
"I've learnt a lot from this tournament because it pushed me hard to stay on top. But it's not over for me as I will now head to Penang for the Penang Pesta Open."
Zulmazran earned a crack at retaining the title after he beat No. 4 seed, Kang Bo Long of Malaysia and winner of the first match, Sam Cooley of Australia, 235-224-192 in a thrilling semi-finals.
No. 6 seed, Cooley edged Korean professional, Jeong Tae-Hwa and No. 6 seed, Muhd Nur Aiman of Malaysia, 221-203-200 in the first match to advance to the semi.
Syimir won the top prize of MYR40,000 (approx. S$15,550) as Zulmazran settled for MYR20,000 and Cooley earned MYR15,000. Kang, Jeong and Aiman took home MYR10,000, MYR9,000 and MYR8,000 respectively.
Detailed scores: Stepladder Finals | Women's Open Round 2 | Men's Open Round 2.
Photos courtesy of MTBC.