World Champion earns third position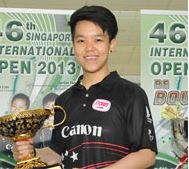 1st June, Singapore: Reigning AMF World Cup and overnight leader, Shayna Ng could only earn a third position after losing the the Women's Open Masters stepladder semi-final match as Malaysia captured a double victory.
Ng, who got off to a great start by leading the field in yesterday's Round 1 finals, completed the 6-game Round 2 in second position to advance to the stepladder finals with team-mate and three-time US Collegiate Bowler of the Year, Jazreel Tan in third.
Four-time national champion and winner of multiple international titles, Shalin Zulkifli topped the final standings to advance as top seed while 2010 Women's Open champion, Sin Li Jane took the last spot in fourth.
In the first match, Jazreel struggled to get going but Ng did put up a gallant fight as Jane set the lanes ablazed to beat the two Singaporeans, 236-200-170 to face the top seed in an all-Malaysian finals.
Shalin took an early with a double strike in the second and third frames as Jane had three opened frames mid-way through the match.
But a single-pin miss in the fifth frame proved costly when she narrowly lost the match 190-192 for a sudden-death decider. Another two single-pin misses decided the match and the title in favour of Jane as she came home with 193 to beat Shalin with 146.
"I was quite confident in the first match because I'm good on fresh oil," said the 21-year-old 2010 champion and 2012 Asian CHampionship Singles gold medalist, Sin Li Jane.
"When I had three opened frames, I thought I had the title slipped away but I did not give up and managed to roll three strikes and another two toward the end. I had a much better match in the decider and when I saw Shalin struggled, I knew I had won my second Singapore Open title."
Meanwhile, Malaysian completed a grand double when another fourth seed, Adrian Ang defeated overnight leader and compatriot, Kang Bo Long to end a two-year title drought.
But the victory did not come easy having to go the second deciding match. Ang easily beat Kang, 191-166 in the first match and had another easy victory in the decider, 197-171.
The champion beat team-mate and second seed, Rafiq Ismail and Singapore's Keith Saw, 216-192-157 to face Kang in another all-Malaysian title match.
"I had an aweful injury to my ring finger and it took me nearly two years to fully recover," said the 25-year-old winner of the 2010 Asian Games Doubles. "It was a painful recovery but I'm glad to get back to winning form again.
"Kang has been bowling great the past two days and I knew it wasn't going to be easy to try and wrestle the title away from him. I hope my performance will help me secure a spot in the Malaysian team for this year's World Championship in Las Vegas."
Ang won S$20,000 (approx. US$15,800) as champion while Kang settled for S$10,000. Rafiq received S$7,500 for finishing third while Keith took home S$4,500.
Sin Li Jane won S$6,000 (approx. US$4,750) as champion with Shalin earning S$3,000. Shayna collected S$1,500 for finishing third and Jazreel settled for S$1,000.
Mr Richard Seow, Chairman of Singapore Sports Council and Mrs Jessie Phua, President of SingaporeBowling were on hand to present the trophies and prizes to the winners.
Photos by Terence Yaw in Singapore.