World Champ receives ST Star of the Month Award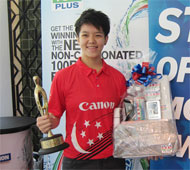 12th January, Singapore: Shayna Ng was awarded the Straits Times Star of the Month of December award after the Singaporean shot to the top of of bowling's perch by winning the coveted QubicaAMF Bowling World Cup in Wroclaw, Poland in November 2012.
It has been a month since Shayna Ng shot to the top of bowling's perch but she insists she is not up there to enjoy the view.
The 23-year-old won the biggest title since she picked up the sport a decade ago when she was crowned world champion at the QubicaAMF Bowling World Cup in Poland.
"It has been overwhelming," she said of her win.
"There have been so many newspaper articles and so much attention. But it is now a new year and whatever I'd won, it's all in the past. It's now time for a reality check.
"I cannot take advantage of my status as a world champion. It is back to training and there is no such thing as, "I'm already up there."
For her latest achievement, Ng was named The Straits Times' Star of the Month for December. The award is an extension of ST's Athlete of the Year accolade, which was launched in 2008. Both are backed by F&N's 100Plus.
The final-year sports science student at Edith Cowan University in Perth won the award in the face of strong competition from Singapore's National football team, who wowed the country with gritty performances en route to a record fouth Asean Football Federation title.
Marc Lim, sports editor of The Straits Times, said: "December was a wonderful end to a great year for Singapore Sport. Shayna's win and the Lions' success at the AFF Cup were the icing on the cake of a tremendous year. But while the Lions brought back football fever, there can be no ignoring what Shayna has accomplished. How many Singaporeans can claim to be a world champion? She can – and it is why she is worthy winner of the award."
Extracted from The Straits Times, Saturday, January 12, 2013 – Written by Wang Meng Meng.
Photos by SingaporeBowling.