Victory eludes Singapore national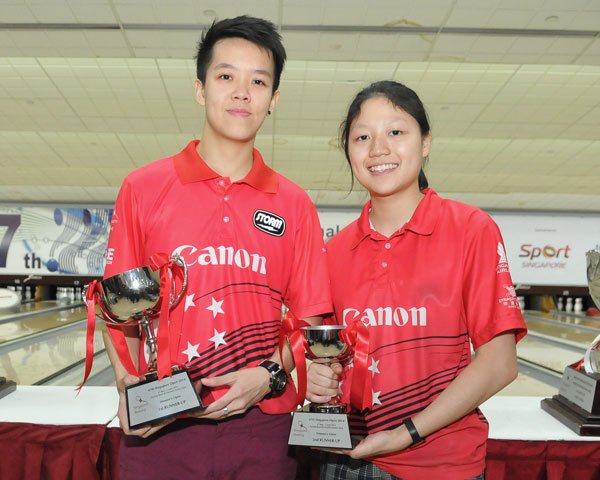 7th June, Singapore: The women's crown of the prestigious Singapore International Open continued to elude Singapore national bowlers as 2013 AMF World Cup champion, Shayna Ng and Kristin Quah ended as first and second runner-up on Saturday.
Ng, who advanced into the stepladder finals as top seed after blazing the lanes at Orchid Bowl @ OCC in the Round 2 finals with 1848. The 24-year-old finished 72-pins ahead of two-time and defending champion, Sin Li Jane of Malaysia.
Li Jane sailed past third-seed, Kristin Quah of Singapore and fourth-seed, Lara Posadas of Philippines with a 247-213-184 victory in the first match to set up the finale with Ng.
Although both Ng and Li Jane got off with three strikes-in-a-row, the Malaysian proved a handful rolling three more strikes in her next three frames while Ng spared twice.
Although Ng turned in a turkey thereafter, her opponent had already built up too much a gap for any chance of over turning the tie going down 235-258 which force the match into a sudden-death decider.
Ng started off better with a turkey as Li Jane spared her first two frames. Although Ng suffered a split in the fourth frame, she bounced back with four strikes-in-a-row. Li Jane responded with a turkey herself leaving the tie with very little between the two title contenders.
The Singaporean suffered another blow when she encountered another split in the crucial ninth frame and despite ending with 221, her opponent doubled up in the seventh and eighth frames and then went on to spare her last two frames to edge Ng with 223.
Li Jane, who has successfully defending her title for the second time, picked up S$6,000 as champion for the third time. Ng settled for S$3,000 while Quah and Posadas earned S$1,500 and S$1,000 respectively.
All was not lost as top-seed Vincent Lim gave the Singapore supporters plenty to cheer after he defeated challenger, Ahmad Muaz of Malaysia, 207-175 to win his first-ever international open title.
Lim, who finished first runner-up at the 40th Thailand International Open in April, made amends with his victory on home soil. The champion had earlier totaled 1969 in the 8-game Round 2 finals to advance into the stepladder finals.
Commonwealth Championship Doubles gold medalist, Muhd Jaris Goh who finished second was eliminated in the first stepladder match when Ahmad took the match against Jaris' and fourth-seed, Nguyen Thanh Pho of Vietnam, 245-193-226.
Lim was richer by S$20,000 with the title while Ahmad took home S$10,000 as first runner-up. Jaris earned S$7,5000 as second runner-up and Nguyen settled for S$4,500.
Ryan Lalisang of Indonesia, who led the Men's Open Round 1 finals, won the S$10,000 perfect game award. Mr Perry Neo, Chairman of Dynasty Travel International was on hand to present the prizes to the winners, accompanied by Mr Von Chan of Canon and Dr Robin Yap, Vice President of SBF.
Detailed scores: Women's Open Stepladder Finals | Women's Open Stepladder Finals | Men's Open Stepladder Finals | Women's Open Round 2 Finals | Men's Open Round 2 Finals | Photo Album.
Photos by Terence Yaw.