Three received SBF annual awards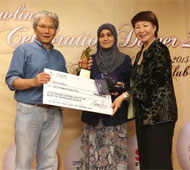 2nd January, Singapore: SBF Admin Manager, Shirine Dhillon was awarded recognition for her outstanding contribution to the Sport of Tenpin Bowling in providing administrative support to SingaporeBowling for 21 years.
The award was presented by Mrs Jessie Phua, President of Singapore Bowling Federation during the celebrations of the New Year with partners and friends at the American Club on Friday. Dhillon has been with SingaporeBowling since 1993.
SBF Bowler of the Year 2014 award went to the most bemedalled athlete at the 2014 Asian Games Incheon, Jazreel Tan. Her award was received on her behalf as Tan was away for the 35th AIK International Tournament 2015 in Sweden.
Joel Tan was award as ABF Youth Bowler of the Year 2014 for his outstanding results for the year 2014. Tan became the first Singapore kegler to roll four perfect games in a single competition as well as winning the 15th MILO International Junior All-Stars Boy's Open title in December in Malaysia.
Meanwhile, Mr Harbajan Singh, who announced his retirement as SingaporeBowling Honorary Legal Advisor was presented a token of appreciation by Mrs Phua for his legal support and advise to SingaporeBowling for the past years.
National Deputy Head Coach, Mr Francis Yeo was presented with the Long Service Award for his dedication and contribution towards the grooming of more talent for Singapore for over 10 years.
Photos by SingaporeBowling.