Team Singapore Receives hero's welcome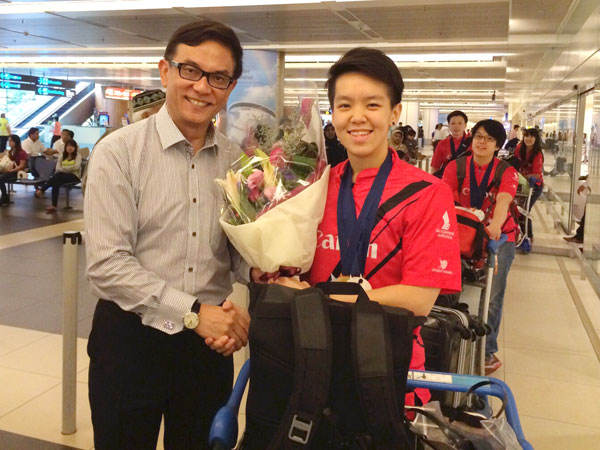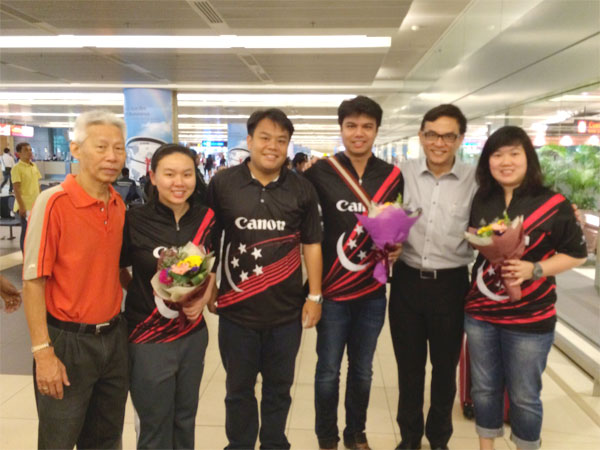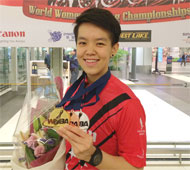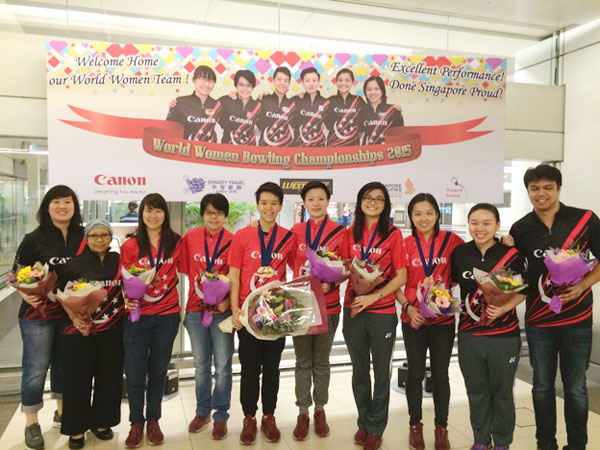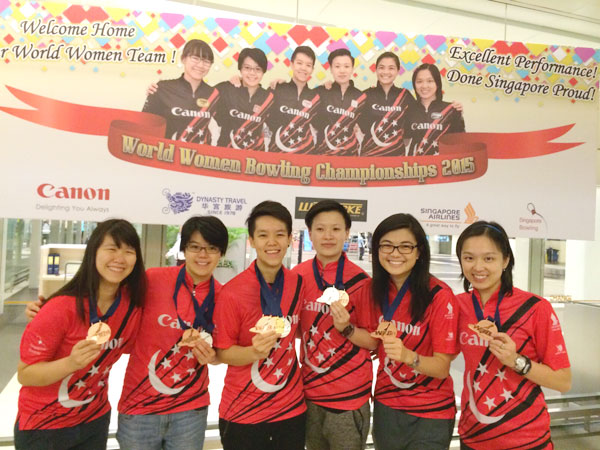 15th December, Singapore: Team Singapore received a hero's welcome when they touched down at Changi International Airport this afternoon after returning home from a historical and outstanding performance at the Women's World Bowling Championship 2015 in Abu Dhabi.
Team Singapore had their best outing at the world championship with a medal haul of one gold, two silver and three bronze medals. 2012 QubicaAMF World Cup champion, Shayna Ng was the top performer winning Singapore's gold meal by pipping Liz Johnson of USA by a single pin in the All Events.
The team has also finished in the top four at each of the events contested except for the Masters finals. Cherie Tan was closed to winning the nation's first gold but lost to Jeon Eun Hee of Korea in the finals of the Singles event on December 9.
Ng also added a bronze in the same event when she was eliminated by the Korean in the semi-finals. The trios of Tan, New Hui Fen and Ng added their second silver when they were denied by the Koreans again in the finals.
The team picked up their second bronze medal after they were knocked out by eventual gold medalist, Team USA in the semi-final.
Both Ng and Tan were in a good position in the All Events standings before the final block of three games in the 5-player Team event on December 12. Ng held on brilliantly to pip Liz Johnson by a single pin to give Singapore its first-ever gold medal. Tan felled to fourth and miss out the podium 56 pins.
Four Singaporeans, Ng, Tan, Hui Fen and debutant, Jeoy Yeo made the cut for the Masters Step 1 finals. Ng and Tan did well to finish second and third in the first step but just could not maintain their pace in the Step 2 finals to make the cut for the semi-finals ending their great run to a halt.
The duo finished sixth and seventh position. Korea emerged as the overall champion with a medal haul of 3-2-3. USA finished second with 2-2-2 while Singapore, who had the best outing since 2005, finished third with 1 gold, 2 silver and 3 bronze medals.
Ng also became the first-ever Singaporean women to win a gold medal at the world championships since its inception. Tan and Ng won their first two medals with the silver and bronze in the Singles. The same pair together with Hui Fen added the Trios silver.
Photos by SingaporeBowling.