Storm Seminar – Coaching Continuation Education Workshop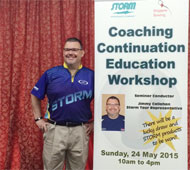 24th May, Singapore: A full-day Storm Seminar – Understanding Lanes and Lane Play presented by Mr James Callahn was held at Orchid Country Club on Sunday.
Packed with useful information on strategies on how to overcome different Lanes and Oil Patterns for optimum scoring, how to build your arsenal, tournament layouts and surface preparation were presented.
The seminar was part of the Coaching Continuation Education Workshop organized by SingaporeBowling. Attendees were also treated to a buffet lunch and lucky draws of Storm Products.
Photos by SingaporeBowling.