Sole Singaporean makes cut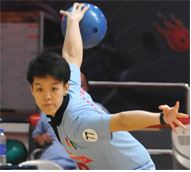 15th March, Kuwait: Reigning AMF World Cup champion, Shayna Ng of Singapore put in a stronger display in her third and final block qualifying round at the PBA-WBT #6 10th Kuwait International Open to make the cut in the second bracket.
Ng, who was third in the second block, registered the highest 5-game series of 1248 for a 15-game total of 3500 to finished second in the squad to Tannya Roumimper of Indonesia.
Tannya led from start to finish for a series of 1230 and a total of 3584. Joline Plainfors of Sweden slipped down to third with 3375 after a poor start while her compatriot, Sandra Andersson and Denmark's Thomas Larsen took fourth and fifth spots.
Daphne Tan slid down from fourth to eighth and looked likely to be out of the top 34 cut mark. Daphne totaled 3283 despite an impressive average of 218.87.
Jazreel Tan got off the third block superbly but could not maintain her pace to end up in 10th with 3259, averaging 217.27. Cherie Tan managed 12th position with 3112.
Based on average, Tannya has cracked into the top bracket (positions 1 to 7) with 238.93 average. Yousif Falah of Bahrain still command the field with 258.50 while PBA Player of the Year, Sean Rash sits in second with 248.00 average.
Defending champion, Osku Palermaa of Finland is placed third with 247.00 average ahead of Tannya in fourth. Manuel Otalora of Colombia and Mika Koivuniemi of Finland occupied fifth and sixth.
Slot seven is reserved for the top Kuwaiti and looked set to go to Khaled Al Dubyyan on an average of 232.00. Shaker Al Hassan of UAE headed the second bracket (positions 8 to 14) with 237.00 average.
Discounting Khaled, Martin Larsen of Sweden headed the third bracket (positions 15 to 22) with 231.00 average while Hussain Al Suwaidi of UAE headed the fourth bracket (positions 23 to 34) with 225.10 average.
American PBA pro, Chris Loschetter is the cut at 34th position on 220.10 average. The final cut is expected to be around the 225 to 230 mark by the time the other three squads complete their final block. Daphne's average puts her in 42nd, Jazreel 44th and Cherie 54th.
Detailed scores: Block 3 Squad C | Block 3 Combined | Photo Album.Photos by Terence Yaw in Kuwait.