Singapore's third title hope dashes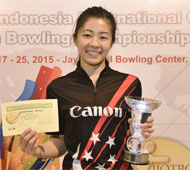 25th October, Sitra, Jakarta: Two-time champion, Bernice Lim's third title hopes were dashed after losing to topseed, Nadia Pramanik of Indonesia in the Women's Open stepladder final of the 13th Indonesia International Open on Sunday.
Lim displayed great form when she narrowly beat Nadia, 257-246 in the first match to force a second decider. But Lim just cannot repeat her earlier form to go down 162-214 at a crucial time.
The first runner-up, who was seeded third after the earlier Stage 2 finals, breezed past second-seed, Alisha Imam of Malaysia and winner of the first match and overnight leader, Novie Phang of Indonesia, 240-135-171 to earn a crack for her third title.
Phang beat fourth-seed, Aldila Indryati and sixth-seed, Puteri Astari 192-158-184 in an all-Indonesian first match. Lim picked up 35 million Indonesian rupiah (approx. S$3,500) while the champion won 70 million rupiah.
Nadia topped the Stage 2 finals with 1793, 45 pins ahead of Alisha in second with 1748. Lim finished third with 1735 while the three remaining stepladder spots went to three Indonesians. Tay Hui Wen of Singapore ended in 12th position with 1593.
Meanwhile, topseed Benshir Layoso of Philippines, who ended the Stage 2 finals with an eight-game total of 2040 to advance to the stepladder finals as topseed, lost to challenger, Michael Mak of Hong Kong, 196-217 in the first match forcing a second decider.
The 45-year-old Filipino had an opened frame in the first but bounced back with a double in the third and fourth frames as Mack failed to spare two consecutive frames in the fourth and fifth.
When Layoso had big split in the seventh frame, Mak must have thought he had a chance to close the gap. But the 20-year-old ABF Tour Macau leg champion just could not roll as many strikes as in the first match.
The topseed went on to strike home in the tenth frame to win the match and take the title with 202-162. He also picked up the top prize of 150 million Indonesian rupiah (approx. US$11,000). Mak, who had earlier edged third-seed, Yeri Ramadona of Indonesia and winner of the first match, Alex Liew, 226-210-215, settled for 100 million rupiah.
Fifth-seed and three-time Indonesia Open champion, Liew narrowly won the first match by defeating fourth-seed, Hengki Suasanto of Indonesia and sixth-seed Lee Tak Man of Macau, 194-180-176 to advance to the second match.
Sole Singapore male finalist, Suresh Elangovan, who advanced automatically to Stage 2 finals as the second seeded qualifier in the overseas pool, missed the stepladder cut by 36 pins to finish ninth with 1807.
Detailed scores: Women's Open Stepladder | Women's Open Stage 2 | Men's Open Stage 2 | Photo Album.
Photos by Terence Yaw in Jakarta.