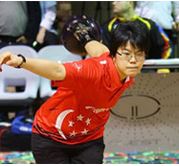 21st November, Krasnoyarsk, Russia: Cherie Tan and debutant, Joel Tan march on to the Top 24 Round of the 49th QubicaAMF Bowling World Cup at the end of the fourth block preliminary qualifying rounds on Thursday.
Cherie, who slipped down to fourth after the third round on Wednesday, remained in fourth at the end of the fourth block. The 25-year-old left-hander managed only 1319 in the third but bounched back with 1426 in the final block to advance into the Top 24 round with 5605.

Leader and 2009 champion, Caroline Lagrange of Canada rolled her fourth 1500 series to stretch her lead to 205 pins with a 24-game total of 5956. 2010 and 2011 champion, Aumi Guerra of Dominican Republic stayed in second with 5751.

Last year's second runner-up, Danielle McEwan of United States totaled 5649 to finish third ahead of Cherie while Maria Lourdes Arles, who shot the 12th perfect game of the tournament, rounded out the top 5 with 5563.

Nataliya Shcherninina of Ukraine made the next round in 24th position with 5002, an average of 208.42 as Cristina Sanz of Catalonia missed the cut in 25th position with 4967.
In the men's division, Joel Tan joined his team-mate, Cherie to advance into the Top 24 Round after finishing 19th position with 5506. Joel, who started off the first block to share 24th position, moved up into 19th after the second block and did well in stay in the top 24 after two addition blocks.

Day 1 leader, Peter Hellstrom of Sweden retained pole position despite a lowly fourth block of 1313 but his 24-game total of 5892 was good enough to lead the field into the next round.

Mats Maggi of Belgium clinched second spot with 5861, just 31 pins off the Swede. Home crowd favourite, Alexei Parshukov of Russia finished a superb third with 5836 while Or Aviram of Israel improved three places to take up fourth with 5778.

South Africa's Guy Caminsky completed the top 5 with 5752. Four Asian men made the top 24 comprising of Benshir Layoso of Philippines (16th), Joel (19th), Yousef Al Jaber of Qatar (22nd) and Naif Oqab of UAE (23rd).

William Ching of Venezuela squeezed in at 24th position with 5465, average 227.71. The top 24 men and top 24 women will bowl another 8 games, with pins carried forward before the field is cut to Top 8.

Detailed scores: Women's Block 3 | Men's Block 3 | Photo Album.

Photos courtesy of Hero Noda, QubicaAMF.