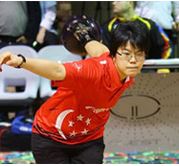 19th November, Krasnoyarsk, Russia: National bowlers, Cherie Tan and debutant, Joel Tan improved their positions from fourth to second and from 24th to 19th at the halfway mark of the 49th QubicaAMF Bowling World Cup.
Cherie, who had a promising start in the first block with 1389, chalked up a much better second block with 1471 to take her 12-game tally to 2860. The Singaporean left-hander rolled 289, 234, 247, 213, 224 and 255 for the highest 6-game total in the field of 64 women.
2009 champion and overnight leader, Caroline Lagrange of Canada remained in pole position after another stella 1449 series to lead the field with 2959. Two-time champion, Aumi Guerra of Dominican Republic also improved from fifth to third on a total of 2836.
Last year's third runner-up, Danielle McEwan of United States slipped one spot to fourth with 2769 while Romanian Luminita Farkas Bucin rounded out the top 5 with 2727.
Sitting at 24th position was Nataliya Shcherbinina of Ukraine with 2484 and Merlina San Nicolas is just 5 pins adrift in 25th position.
The women will resume with their third block of 6 games on November 20 before ending the preliminary round with the fourth block on November 21 where the field will be cut to 24.
Meanwhile, Joel Tan of Singapore, who tied 24th position after the first block, put in a much improved performance rolling 240, 245, 201, 258, 266 and 226 for a 1436 series taking his 12-game tally to 2800 for 19th position.
Overnight leader, Peter Hellstrom of Sweden remained in the lead with 3061 after registering another 1500-series with 1518. World Championship silver medalist, Bodo Konieczny of Germany moved up to second with 2949.
William Ching of Venezueala slipped down to third with 2932 while Filipino southpaw, Benshir Layoso remained in fourth position with 2916. Mats Maggi of Belgium improved to complete the top 5 with 2901.
Nino Stenko of Slovenia is the cut at 24th position after two blocks with 2720 while 2011 second runner-up, Mykhaylo Kalika of Ukraine occupied 23rd position, just 12 ahead.
Two more blocks of 6 games each will be contested over the next two days before the field is cut to 24. The field will be further cut to top 8 for the round-robin matchplay semi-finals.
Detailed scores: Women's Block 2 | Men's Block 2 | Photo Album.
Photos courtesy of Beat Grauwiler, Bowling Digital.