Singaporeans eyeing good run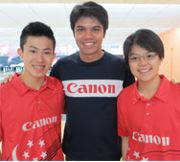 14th November, Singapore: Singapore national bowlers, Cherie Tan and Joel Tan are eyeing for a good run at the 49th QubicaAMF Bowling World Cup which will get underway at the Sibiryak Centre in Krasnoyarsk, Siberia on November 17.
Cherie, who is making her third appearance at the World Cup (2005 and 2011), will be hoping to better her performance at her last outing in 2011 in Johannesberg, South Africa in which he missed the cut for the stepladder finals.
The Singapore southpaw started well in the first block of 5 games to take up fifth but improved on that to third after the second block. Cherie stayed focus from the third to tha fifth block by ensuring her place in the quarter-finals with a third-place finish.
But luck was not on her side after she slipped to fourth in the semi-finals and missed the stepladder finals cut by 65 pins. Given a second chance, she will be hoping to improved on that outing.
In the men's division, debutant Joel Tan is relishing the opportunity given to him when he was selected to represent his country at the world cup. Joel, a member of the development squad was promoted to the training squad this year.
His first major outing was at the 4th Asian Indoor & Martial Arts Games in Incheon, Korea in which he won a bronze meal in the Men's Doubles with Keith Saw. The 17-year-old finished sixth int he Team event.
Joel's big break came when he was also selected to represent Singapore at the 2013 World Championships in Las Vegas, USA but did not turn in a result expected of him.
It will be a big challenge for Joel in the world cup, expecially competing for the first time as well as against some of the world-class bowlers there.
To follow the bowlers' progress, please visit QubicaAMF.com and check out the Photo Album.
Photos courtesy of SingaporeBowling.