Singaporean youth adds a bronze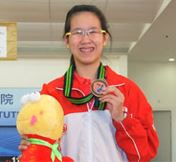 14th September, Hong Kong: All Events gold medalist, Joey Yeo Ruoqi added a bronze medal for Singapore after finishing third in the Girl's Stepladder Masters finals of the 17th Asian Youth Tenpin Bowling Championships at HKSI Bowling Centre on Saturday.
Yeo, who was seeded No. 2 after ending the two blocks of Round-Robin Matchplay finals yesterday at SCAA Bowling Centre, lost the semi-final match to third seed, Choi Ae Rim of Korea, 190-221.
The Singaporean started off the match with a strike but encountered a split in the second frame as her Korean opponent got off the mark with three strikes-in-a-row to pull away with a 34 pin lead.
Yeo left a 2-4-5-8 bucket shot which she failed to spare and was trailing Choi by 44 at the halfway mark. Despite rallying back with a double in frames 6 and 7 and another double in frames 9 and ten, she had to settle for the bronze medal.
"I gave it all my best and all I could do was win another bronze medal," said Yeo, who won a gold in the All Events and a silver in the Team at the competition.
"The Koreans were just better on a day. But overall I'm happy with my performances and there are still many youth championships that I can compete in and hopefully I can better it."
Choi went on to beat top seed, Kim Jin Sun in the all-Korean title match, 516-466 to claim her third gold medal to add to her gold in the Singles and Team events.
Meanwhile another all-Korean boy's finals saw top seed, Lee Kyu Hwan beating team-mate and No. 2 seed, Lee Ik Kyu, 426-385 to win Korean boys their first and only gold medal. Kyu Hwan took the first match, 222-211 before winning the second, 204-174 for the victory.
Ik Kyu, who won the bronze medal in the opening Singles event, had earlier denied No. 3 seed, Kenta Yoshida of Japan a crack at the title with a 221-191 victory in the semi-finals.
Korea emerged as Girl's country champion with a medal haul of 3 gold and 3 silver medal while Singapore finished second with 1 gold, 1 silver and 2 bronze medals.
Indonesia was the Boy's country champion for the first time-ever winning 2 gold, 1 silver and 3 bronze medals. Korea, Malaysia and Japan took the other three gold medals in the Masters, Singles and Team events respectively.
Korea successfully defended the overall champion with a medal haul of 4-5-1. Indonesia and Malaysia was the other two countries to win two gold medals each.
Players, officials and federation representatives adjourned to the Rotunda 1 ballroom at the Kowloon Bay International Trade and Exhition Centre for the victory banquet graced by Sheikh Talal Al Sabah, President of Asian Bowling Federation.
Hong Kong Bowling Congress handed the champonship flag to Macau, China who will host the 18th edition of the Asian Youth Championships in 2015.
Detailed scores: Girl's Stepladder Finals | Boy's Stepladder Finals | Photo Album.
Photos by Terence Yaw in Hong Kong.