Singaporean wins third Youth title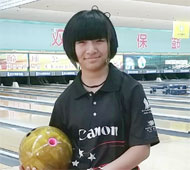 5th December, Kuala Lumpur: Newly-crowned Singapore national champion, Tracy See won her third international youth title this year with victory in the Youth Girl's Open Masters finals of the 16th MILO International All-Stars Bowling Championships on Saturday.
See defeated top-seed, Nur Dayana 254-224 to force a decider. The Singaporean repeated her form in the title match, 256-217 to win the title and earned the top prize of RM18,000 (approx. S$5,900).
The champion had earlier dispatched third-seed, Jeong Won of Korea and Nora Lyana Natasia of Malaysia, 257-235-213 to advance to the finals. In the earlier 10-game finals, See edged Nir Syazwani Sahar of Malaysia by six pins to clinch fourth with 2254 and the final stepladder spot.
See had won her first international youth title this year at the 41st Thailand International Open in April and her second youth title at the 15th Chinese Taipei International Open in July.
Nur Dayana, who settled for second position to pocket RM10,000, topped the finals with 2326. Joeng Won and Nora Lyana made the stepladder finals in second and third with 2313 and 2297 respectively.
Tracy See with the champion's trophy
Singapore national youth members and bowling under the Singapore Sports School, Charmaine Chang finished ninth with 2207 followed by Amabel Chua in 12th position with 2132.
Meanwhile, no Singaporeans made the Boy's Youth Open stepladder finals. Top-seed, Timmy Tan was crowned champion after he defeated 2012 champion, Muhd Rafiq Ismail, 233-227 in the second deciding all-Malaysian match.
Rafiq had won the first match, 256-245 to force Tan to the second match but the champion bounced back for a well-deserved victory. Tah won RM25,000 as champion while Rafiq settled for RM15,000.
Rafiq had a narrow victory over third-seed, Muhammad Firdaus Idris and fourth-seed, Jordan Bunphim, 212-210-207 in another all-Malaysian affair. Tan had advanced to the stepladder finals as top seed with a 10-game earlier finals with 2475. Rafiq finished second with 2399.
Muhd Firdaus and Jordan qualified in third and fourth positions with 2360 and 2353 respectively. The best Singaporean was reigning Singapore national champion, Timothy Tham, who managed ninth with 2245.
Darren Ogn was the second best Singaporean in the boy's division in 14th position with 2152. The Masters Finals for the adult will be held on December 6.
Detailes: Youth Stepladder Finals | Youth Girls Masters Finals | Youth Boys Masters Finals | Photo Album.
Photos courtesy of Sunway Meglanes.