Singaporean wins semi-final round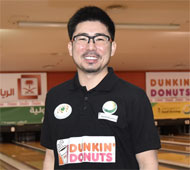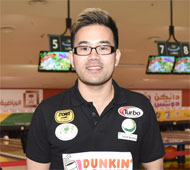 6th December, Riyadh: Asian champion, Remy Ong of Singapore making a come back after a three year absence, won the semi-final round of the PBA-WBT #3 9th Kingdom International Open on Sunday.
Bahrain's Mohammed Janahi got off the block with a superb 254 in his opening game to lead 2006 Doha Asian Games Doubles gold medalist, Hassan Alshaikh of Saudi Arabia just one pin followed by 2015 ABF Tour Bahrain winner, Yaqoub Alshatti of Kuwait in third.
Despite Ong added a splendid game of 245 in the second, Hassan shot a higher 258 to take over the running as the Singaporean slipped to second and trailing by 30 pins.
Janahi dropped down to third, 5 pins away while Rickle Kam of Hong Kong and 2014 Incheon Asian Games Singles gold medalist, Yannaphon Larpapharat of Thailand kept pace with the leading duo in third and fourth positions.
Janahi bounced back with 255 in the third game to regain the lead as Ong and Yannaphon shared second spot, 14 pins behind with Hassan dropping down to fourth after managing just 195.
Whilst the front runners struggled in the fourth game, Ong took the opportunity to lead for the first time when he shot 219. Yannaphon recovered with 249 from a poor previous game of 176 to trail in second.
2015 Sinai Open champion and debutant, Frederik Ohrgaard of Denmark knocked down a sizzling 277 in the fifth game to become the new leader. Ong trailed in second after a 248 while Yannaphon remained in third.
The Singaporean bowled much consistently and with 247, 256 and 203 in his next three games, Ong comfortably won the round with 1889. Yannaphon took second spot with 1807, 82 pins adift.
The Dane ended on a poor 159 to dropped down to fourth with 1762. Kam ended strongly to snatch third spot with 1774 while 51st QubicaAMF World Cup first runner-up, Francois Louw of South Africa rounded out the top five with 1737.
The cut at 11th position went to Day 3 high series award winner, Eric Tseng of Hong Kong with a score of 1645 (averaging 207.13) while the 12th position reserved for a Saudi went to Prince Abdulhakim Al Saud with 1642.
Basel Al Anzi of Kuwait missed the cut by 10 pins finishing 13th. The top 11 together with the top Saudi will be joined by the top four seeded qualifiers from Round 1 for another eight games in the Finals from scratch.
The top five will advance to the Stepladder TV Shootout finals. The first match will be between third, fourth and fifth-seeds. The winner will meet the second seed over one game in the second match.
The winner in the second match will earn a crack at the title against the top seed on a beat-twice format to decide the champion.
Detailed scores: Demi-Final Round | Photo Album.