Singaporean takes pole position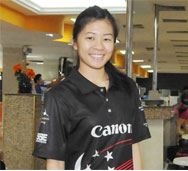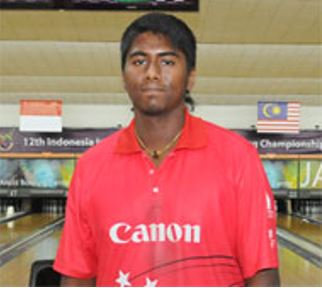 23rd October, Jakarta: Two-time Singapaore National Women champion, Bernice Lim delivered a stunning performance to take pole position in the Women's Open Masters qualifying standings of the 12th Indonesia International Open Bowling Championships.
The 22-year-old national bowler notched up a 6-game aggregate of 1416 from two series of 718 and 698 for the top spot. Lim won her first international title at the 2005 championship when she was just 15 and she will definitely welcome a return to the top of the winners' podium come Sunday in the finals.
Overnight leader and Asian Games Incheon Doubles silver medalist, Shalin Zulkifli of Malaysia slipped down to second with 1329 while Lim's compatriot and defending champion Geraldine Ng finished third with 1321.
Hong Kong's Milki Ng finished fourth with 1285 while Sharon Koh of Malaysia rounded out the top 5 with 1269. 2008 AMF World Cup champion and another two-time National Women champion, Jasmine Yeong-Nathan made the cut to tie sixth position with Norsyammi Syafra of Malaysia on 1255.
Iliya Syamin of Singapore national youth team competed in this division and did well to make the cut in seventh position in the mixed pool with 1178.
Her team-mate, Charlene Lim, who has yet to qualify with 1158, will be hoping to improve her score to make the cut before the end of qualifying tomorrow. The top 3 local qualifiers were 2009 champion, Tannya Roumimper with 1376 followed by Putty Armein in second with 1348 and Ivana Hie in third with 1331.
Meanwhile the top spot of the Men's Open division went to Asian Games Incheon Team silver medalist and 2009 champion, Zulmazran Zulkifli of Malaysia with a whoping score of 1571. Overnight leader, Eric Tseng of Hong Kong was second with 1478 while Korean pro, Choi Won Young finished third with 1455.
One pin off the top 3 bracket was 2013 Malaysian Open champion, Muhd Nur Aiman of Malaysia in fourth with 1454 and Asian Games Incheon Team bronze medalist, Michael Mak completed the top 5 with 1452.
Suresh Elangovan is the only Singaporean national team member to have made the cut in 11th in the overseas pool on 1405. Current cut in 11th position in the mixed pool is held by 2014 ABF Tour Thailand leg champion, Shaik Abdul Hameed of India with 1370.
The top 3 local qualifiers were Ryan Lalisang with 1445 followed by Rudy Goenawan in second with 1415 and defending champion, Yeri Ramadona in third with 1407.
Last year's cut was 1435 and with the final day of qualifying ending tomorrow, this cut could easily surpass the 1400-mark.
The top 3 local men and women and the top 3 overseas men and women will earn one bye, skipping Stage 1 finals on October 24 and automatically contest Stage 2 finals on October 25. The rest will bowl 8 games in Stage 1 after which the top 18 men and top 15 women will proceed to the next stage together with the seeded qualifiers.
The top 6 men and the top 6 women after the second stage will advance to the stepladder shootout finals which will be telecast LIVE on Elsinta TV station on Sunday.
Detailed scroes: Women's Open Qualifying | Men's Open Qualifying | Photo Album.
Photos by Terence Yaw in Jakarta.