Singaporean takes over lead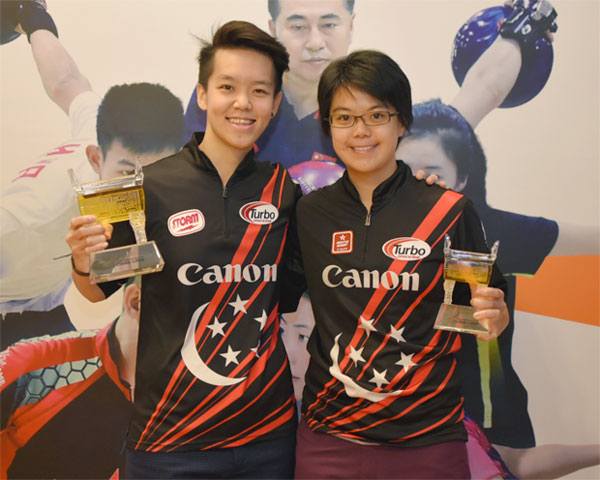 10th October, Shanghai: Shayna Ng took over the lead of the Women's Open Masters overseas qualifying pool of the China International Open after the second block of five games were completed at Hao's Bowling Centre on Monday.
Ng, who trailed Indonesia's Tannya Roumimper by 23 pins in the first block, rolled a superb 1052 in her second block to take over the lead with a 10-game tally of 2112. Daphne Tan remained in third with 1996 despite a lower second series of 958.
Putty Armein of Indonesia finished second with 2003, 109 pins behind Ng and 17 pins pin ahead of Tan. 2016 PWBA Storm Sacramento Open champion, Cherie Tan remained off the top bracket in fourth position with 1987, just nine pins away from her sister.
Hong Kong's Milki Ng improved one spot from ninth to eighth position with 1979 while overnight leader, Tannya Roumimper of Indonesia stumbled to a poor second block to slip down to ninth with 1978. Jazreel Tan finished in the top ten with 1926.
Zhang Yuhong, who has completed her third block in Squad A, topped the local pool with 3031 ahead of overnight leader Sun Xiaoping swapping the lead with Zhang on 2977. Li Aijun made up the top three with 2964.
Shayna Ng and Daphne Tan taking up first and third
The top three overseas and top three local qualifiers will automatically qualify for Round 2 final while qualifiers positioned 7 to 30 will contest Round 1 final over six games. The top 12 together with the six seeded qualifiers will bowl another six games in Round 2 to determine the top six finishers for the stepladder final.
Meanwhile, Remy Ong of Singapore continue to lead the Men's Open overseas qualifying pool with 2194 despite a lower second block of 1048. 2016 Asian Championships triple gold medallist, Michael Mak of Hong Kong leapfrog from 11th into the top bracket in second with 2129.
Indonesia's Ryan Lalisang also improved from fourth in the overseas pool to third with 2110 while Cheng Hsing-Yueh of Chinese Taipei finished ninth with 2094. 2015 Singapore Open champion, Vincent Lim of Singapore made up the top five overseas automatic Round 2 qualifiers in fifth with 2039.
Wang Hongbo swapped top spot with overnight leader, Wang Shizhen. Hongbo totalled 2206 to Shizhen's 2155. Zhang Min, Mi Zhongli and Liu SHaoyi completed the top five with 2097, 2052 and 2000 respectively.
The bowlers will complete their third block of five games tomorrow. The top five local and top five overseas qualifiers will qualify automatically for Round 2 final. Qualifiers from the mixed pool positioned 11 to 42 will contest Round 1 final. The top 20 finishers together with the ten seeded qualifiers will bowl another six games in Round 2. The top six will advance to the stepladder final.
Detailed scores: Women's Open Qualifying | Men's Open Qualifying | Photo Album.
Photos by Terence Yaw in Shanghai.