Singaporean retains top spot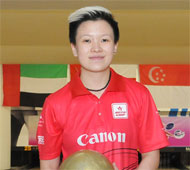 26th January, Bangkok: First block leader, New Hui Fen of Singapore retained top spot after the end of the second block of the Women's Masters finals to advance as top seed for the stepladder finals of the 23rd Asian Tenpin Bowling Championships.
Armed with a margin of 251 pins from the first block, Hui Fen had a perfect start winning the ninth and second block opening match with 289 to take her margin to 338 pins.
Alisha Nabila of Indonesia moved into second as Lee Young Seung of Korea, who was second in the first block, slipped down after losing her first match.
Although the Singaporean only managed to win five matches today, she continued to build up a hefty margin including winning match 14 with 290 for a score of 1889 and a total of 4038.
Hui Fen's 16-game total smashed the 3751 record set by Choi Jin-A of Korea in 2008. Fifth perfect gamer and Team gold medalist, Son Yun Hee won all her eight matches played today to advance as second seed with 3730, 308 pins behind the top seed.
Doubles gold medalist, Sin Li Jane of Malaysia leapfrog from seventh overnight to advance as third seed with 3730.
Jeon Eun Hee of Korea missed the cut by 45 pins finishing fourth with 3630. The Indonesian took fifth spot with 3584. Lee Young Seung of Korea, who was second in the first block, felled to ninth position winning only one match today.
Singapore's two other finalists, Daphne Tan and Jasmine Yeong-Nathan could not get into their usual strides with Tan winning only two matches and Jasmine one match to end their finals in 13th and 16th position respectively.
Son will square off with Li Jane in the one-game first match at 4.30pm local time for the right to challenge Hui Fen in the title match beat twice format for the sixth gold medal.