Singaporean makes stepladder finals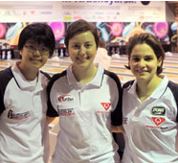 23rd November, Krasnoyarsk, Russia: Cherie Tan made the Stepladder finals of the 49th QubicaAMF Bowling World Cup after finishing third in the Top 8 Round-robin Matchplay finals and will be eyeing a third Women's title for Singapore.
Qualifying for the Women's Top 8 finals in fifth, Cherie won four and lost four matches with lines of 240, 239, 200, 212, 265, 231, 279 and 212 for a grand total of 9371 to advance to the stepladder finals for the first time.
Overall leader and 2009 champion, Caroline Lagrange of Canada topped the round with 9884 winning seven out of the 8 matches contested while two-time champion, Aumi Guerra of Dominican Republic will be hoping to create history by becoming the first women to win the title three times after she finished second with 9643 from four wins.
Danielle McEwan of United States missed the cut in fourth position with 9305 winning three and losing five matches. Roosa Lunden of Finland took fourth position with 9256 and Thashaina Seraus of Aruba rounded out the top 5 with 9135.
Luminita Farkas Bucin of Romania and Maria Lourdes Arles of the Philippines finished seventh and eighth positions with 9102 and 9097 respectively.
South Africa's Guy Caminsky topped the round with 9732 winning five matches and losing three as local crowd favourite, Alexei Parshukov of Russia finished second with 9731 winning seven out of eight matches.
Or Aviram of Israel sealed the third and final stepladder spot in third with 9715 with five wins ahead of American, John Szcerbinski in fourth with 9657. Leader of the preliminary and the Top 24 rounds, Peter Hellstrom of Sweden failed to advance and had to settle for fifth with 9637.
Humberto Vazquez of Mexico, Mats Maggi of Belgium and Bodo Konieczny of Germany completed the top 8 from sixth to eighth positions with 9557, 9463 and 9345 respectively.
Cherie will meet Guerra in the best-of-3 semi-finals and the winner will earn a crack at the title with top seed, Lagrange in another best-of-3 finals. Parshukov will face Aviram in the semi and the winner to meet Caminsky in the finals.
Photos courtesy of Beat Grauwiler, Bowling Digital.