Singaporean leads World Games Singles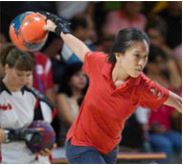 2nd August, Cali, Colombia: Asian Indoor & Martial Arts Games bronze medalist, Geraldine Ng of Singapore led a field of 24 after the first block of Women's Singles at The World Games 2013 at the Cali Bowling Coliseum on Friday.
Ng, who scored a six-game score of 1306 when she partnered Howard Saw in the Mixed Doubles to finish 11th, added 1344 pinfalls during the first block of 6 games in the Singles to take the lead with a 12-game total of 2650.
The Singaporean had lines of 232, 241, 209, 213, 237 and 212 to finish 18 pins ahead of local favourite, Clara Cuerrero of Colombia in second with 2632 followed by Ukraine's Daria Kovalova in third with 2621.
Venezuela's Karen Marcano and Malaysia's Esther Cheah rounded out the top 5 with 2608 and 2604 respectively. Mixed Doubles gold medalist, Kelly Kulick of USA managed only 1215 to add to her earlier 6-games of 1308 to take up tenth with 2523.
The women will resume with their second block of 6 games on Saturday and the top 10 based on a total of 18-games will advance to the round-robin matchplay finals.
Meanwhile, Howard Saw registered a creditable 1349 in his first block of the Men's Singles to finish 14th and is not too far from tenth position. Saw scored 1265 in the MIxed Doubles for a 12-game total of 2614.
Two-handed Finn, Osku Palermaa topped the leaderboard with 3000 after a stunning 1535 in the Singles. Palermaa registered 1465 in his earlier Mixed Doubles event with Sanna Pasanen and missed the stepladder cut in fourth.
Norway's Mads Sandbakken trailed in second with 2876 with 1433 in the Singles and 1443 in the Mixed Doubles. Dan Maclelland of Canada, who won the silver medal in the Mixed Doubles with Lynne Gauthier, finished third with 2857.
Mixed Doubles gold medalist, Mike Fagan of USA took fourth position with 2778 from 1383 in the Singles while Mixed Doubles bronze medalist, Alejandro Cruz of Mexico rounded out the top 5 with 2775.
Another 6 games in the second block will be bowled on Saturday and the top 10 from 18-games will qualify for the round-robin matchplay finals.Photos courtsey of TWG 2013.