Singaporean finishes first runner-up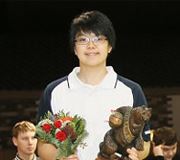 23rd November, Krasnoyarsk, Russia: 2009 Champion, Caroline Lagrange of Canada denied Singapore a back-to-back title after she needed the third deciding match to beat Cherie Tan to win the 49th QubicaAMF Bowling World  
Lagrange won the first match, 242-207 but Tan bounced back with a 247-212 victory over the Canadian to force a third and deciding match in a best-of-3 stepladder format. Tan just did not have the luck going down narrowly, 213-215 to settle for the first runner-up.
The 25-year-old Singaporean flew past two-time champion, Aumi Guerra of Dominican Republic, 214-208 and 245-203 in the semi-finals to earn a crack at the title. Caroline is the sixth Canadian woman and the tenth Canadian overall to win the trophy.
"This is probably the best win of my life. It's unbelievable. My mother, Louise, is here with me and she was in Melaka as well, but Mark (my husband) couldn't make it this time," said Lagrange.
  "I spoke with him immediately afterwards on Facetime, when it was about four in the morning in Canada. He's bowling in a tournament himself later on and it was a short call so he could get back to sleep!"
Meanwhile, Or Aviram became the first Israeli to win the Men's title after he defeated top seed and 2008 World Tenpin Masters champion, Guy Caminsky of South Africa, 279-245, 214-277 and 258-182 in the finals.
"This is truly wonderful. When he came second in 2005, I wondered if he would ever get another chance and here we are. He played so well and I am so proud of him," said his coach.
Sadly for the host nation, Alexei Parshukov of Russia never really got going. He appeared quite nervous and lost in two games to Aviram, 213-220 and 171-206 for his opponent to advance to the finals.
United States won the Bent Petersen trophy for the top country after Danielle McEwans and John Szcerbinski both finished fourth.
   Photos courtesy of SingaporeBowling.