Singaporean eyeing women's crown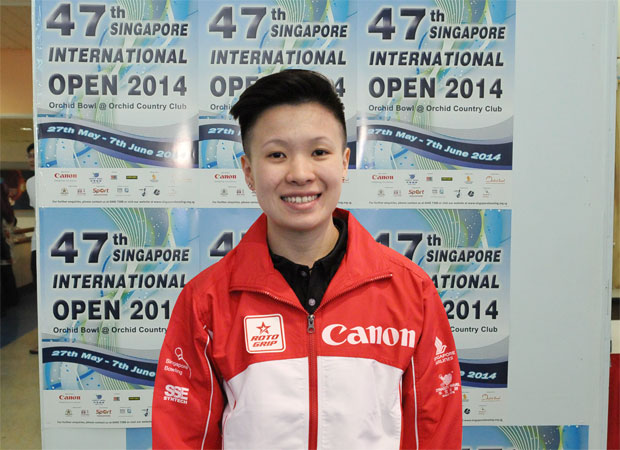 3rd June, Singapore: Reigning national champion, New Hui Fen of Singapore took over top spot of the Women's Open Masters qualifying leaderboard at the 47th Singapore International Open on the eighth day of competition at Orchid Bowl @ Orchid Country Club.
Hui Fen, who was second in the table during the first few days of qualifying rounds, improved her lower 3-game series with a stunning 777 to leapfrog into pole position with a total 6-game aggregate of 1491 and an impressive 248.5 average.
The 2013 Asian Indoor & Martial Arts Games bronze medalist will be hoping to improve her second runner-up position in the 2010 Singapore International Open after a superb performance in her qualifying rounds.
First perfect gamer and 2013 DHC-IBC Women's champion, Shayna Ng remained in second position with 1490 while ex-national youth, Krishna Darshini made up the top 3 places in the qualifying standings with 1459.
The top 3 qualifers in the local pool will earn a bye into Round 2 finals skipping Round 1. 2009 AMF World Cup champion, Jasmine Yeong-Nathan headed positions 4 to 10 of the local pool with 1407.
Joining Jasmine is newly-crowned Malaysian Open champion, Cherie Tan in fifth with 1397, Geraldine Ng sixth with 1392, Jazreel Tan seventh with 1373, Daphne Tan eighth with 1371, Amanda Ng ninth with 1369 and Bernice Lim tenth with 1357.
Siti Safiyah Amirah of the Malaysian national team topped the overseas pool with a superb 1377 pinfalls ahead of Wang Ya Ting of Chinese Taipei in second with 1368 while debutant, Zhang Chun Li of China finished third with 1303.
Likewise, the top 3 qualifiers in the overseas pool will advance automatically to Round 3 finals. 2009 Singapore Open women champion, Sharon Kohof Malaysia headed positions 4 to 10 with 1299.
Two-time Singapore Open (2010 and 2013) and defending champion, Sin Li Jane of Malaysia will automatically qualify for Round 1 finals but she will attempt to improve her ninth position in a hope to make the top 3 bye.
The current cut in ninth position in the local and overseas pool (mixed) is held by Sheena Go of the Philippines with a total of 1223. Positions 1 to 9 in the mixed pool will qualify for Round 1 finals.
Meanwhile, national bowler Suresh Elangovan remained in the lead of the Men's Open Masters qualifying table with 1499. The 21-year-old 2010 Singapore Open Youth Masters second runner-up has two splendid 782 and 717 series to give him top spot.
Ex-national, Vincent Lim of Singapore, who almost rolled the tournament's third perfect game but improved his position to second with a total of 1480. Lim was on the verge of picking S$10,000 if he had achieved the feat as his attepmt was during one of the designated perfect game squads.
Tay Hui Chaing and second perfect gamer, Howard Saw made up the top 4 with 1479 and 1471 who will automatically qualify for Round 2 finals. Justin Lim Chia Loong headed position 5 to 14 with 1467.
Qualifiers in position 5 to 14 will have to battle out the finals in Round 1 of which eight of the qualifiers are Singapore national bowlers.
2010 Asian School Singles gold medalist, Enrico Hernandez of the Philippines occupied No. 1 position of the overseas pool with 1415. He is joined by three-time Malaysian International Open champion, Zulmazran Zulkifli of Malaysia in second with 1413.
Another Chinese debutant and early leader, Yin Shu Yu took third position with 1405 while 2010 Guanzhou Asian Games Singles gold medalist, Biboy Rivera of the Philippines completed the top 4 with 1396.
The top 4 men of the local pool and the top 4 men of the overseas pool will advance directly to Round 2 finals. 2010 Asian Games Singles silver medalist, Kenneth Chua of the Philippines headed positions 5 to 14 with 1390.
2009 Singapore Open first runner-up and 2011-12 PBA Player of the Year, Sean Rash of Montgomery, Ill, USA sits in 13th position with 1350. He will surely be making more attempts to get into the top 4 bracket.
Another PBA pro and 2007 Singapore Open champion, Mika Koivuniemi of Finland has yet to make his qualifying rounds after his arrival in Singapore.
Qualifying rounds will end June 5 and the Open Masters Round 1 finals will be held on June 6. The top 16 finishers in the Men's Open Round 1 finals will advance to Round 2 together with the eight seeded qualifiers (top 4 local men and top 4 overseas men).
The top 12 finishers in the Women's Open Round 1 finals will also advance to Round 2 together with the six seeded qualifiers (top 3 local women and top 3 overseas women).
Detailed scores: Men's Open Qualifying | Women's Open Qualifying | Photo Album.
Photos by Terence Yaw.