Singaporean ends year with victory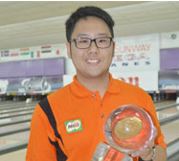 22nd December, Petaling Jaya: Second Keith Saw of Singapore rolled two big games in the Boy's Open Masters championship match of the 14th MILO International All Stars to defeat top seed, Muhd Rafiq Ismail of Malaysia twice en-route to end the year with a victory.
Both had exchanged strikes for strikes and was locked at frame nine of the first match. But the defending champion, Muhd Rafiq handed Saw a big break when he failed to spare his final frame while the Singaporean ended with a spare and strike to take the match, 259-236.
In the decider, Saw fired nine consecutive strikes from frame 3 to finish with 269 to the Malaysian's 247 to take the title and the top prize of RM25,000 (approx. S$9,610).
The champion had earlier edged third-seed and compatriot, Muhd Jaris Goh and fourth-seed Yusuf Abdul Raof of Malaysia in the tightly fought first stepladder match, 247-223-237 to advance to the championship match.
Saw made the cut for the stepladder finals after finishing second in the 10 games finals with 2385, 64 pins behind Muhd Rafiq in top spot with 2459. Muhd Jaris joined Saw in third with 2387 while Yusuf took the fourth and final stepladder spot with 2358.
Perak's Teh Lit Qing missed the cut by 20 pins to finish fifth with 2338. Justin Lim of Singapore ended in sixth position with 2315. Fourteen other Singapore youngsters qualified for the finals.
Meanwhile, Kristin Quah was Singapore's best performer in the Girl's Open Masters finals when she made the stepladder finals in fourth but was eliminated in the first match. Second-seed, Jacqueline Sijore of Malaysia took the match defeating third-seed, Adila Indryati of Indonesia and Quah, 246-224-228.
Top seed, Victoria Chin of Malaysia edged Jacqueline, 231-224 in the championship match to win the title and top prize of RM18,000 (approx. $S6,6920). Quah earned RM3,000 (approx. S$1,150) as second runner-up.
Chin topped the earlier 10-game finals with 2325 followed by Jacqueline in second with 2275. Aldila and Quah reached the stepladder finals in third and fourth with 2259 and 2220 respectively.
Joey Yeo and Tay Hui Wen were Singapore's two other best finishers ending in sixth and seventh positions with 2172 and 2164 while five others made the finals.
Hee Kar Yen of Malaysia upset former Japanese national squad member, Tomokatsu Yamashita by beating top seed twice, 219-217 and 218-207 to win her biggest international title and the top prize of RM35,000 (approx. S$13,460).
In the all-Malaysian semi-final match, third seed Hee beat fellow team-mates, Siti Shazwani and winner of the first match, Zulmazran Zulkifli, 210-195-192 to advance to the championship match.
Zulmazran took the first match by defeating fourth-seed, Kang Bo Long and ex-national, Zaid Izlan, 248-246-207 to advance to the semi. Tomokatsu took home RM20,000 while Siti and Zulmazran pocketed RM10,000 and RM8,000.
The Japanese topped the earlier 10-games finals with 2453 followed by Siti in second with 2426 and the champion in third with 2419. Zulmazran, Kang and Zaid joined them from fourth to sixth positions.
Detailed scores: Open Stepladder Finals | The Masters Stepladder Finals
Photos courtesy of Paul Chua.