Singaporean clinches pole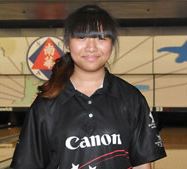 9th June, Hong Kong: Tracy See regained pole position in the Women's Open Masters overseas qualifying pool of the 39th Hong KOng International Open for Singapore after overnight leader and team-mate, Joey Yeo Ruoqi lost it to a Filipina.
Tracy, who led briefly yesterday with 1192 before her team-mate, Joey Yeo Ruoqi took over pole position from her with 1253 and Kristin Kuah improving to second with 1223.
Earlier this morning, Lara Posadas of Team Bowlmart, Philippines surged into the lead with 1261 pushing Tracy out of the top 3 bracket. But the 17-year-old also improved her lower 3-game series of 561 to 636 to regain top spot with 1267.
Posadas and Joey slipped down to second and third to earn a bye for Stage 2 finals. Kristin Kuah dropped out of the top 3 bracket into fourth while an second Filipina, Cecilia Yap rounded out the top 5.
Joy Yap and Ilma Nur Jannah will join Kristin to contest the 10-game Stage 1 finals tomorrow after finishing sixth and seventh in the overseas pool while Kimberly Ooi also made the cut second in the mixed pool.
Local seeded qualifiers, Milki Ng and 2009 champion, Chan Shuk Han made the top 3 qualifiers in second and third with 1182 and 1162 respectively behind leader, Sonia Ho in pole with 1233.
Meanwhile, Alexander Tan secured his spot in the finals after finishing 12th in the Men's Open Masters overseas pool with 1331. Muhd Danial Zheng Ye made the cut fifth in the mixed pool with 1302.
The third Singaporean, Alex Chong had yet to make the cut at press time managing only ninth in the reserves list with 1224. 2012 World Youth All Events gold medalist, Sam Cooley topped the pool with 1463.
2012 Thailand Open champion, Shaker Al Hassan of UAE and early leader, Andrew Frawley of Australia finished second and third with 1423 and 1393 for automatic qualification for Stage 2 finals.
Wicky Yeung, Achilles Hung and Rickle Kam remained the top 3 in the local pool with 1470, 1446 and 1423 respectively. Three-time Hong Kong Open champion, Wu Siu Hong, Michael Mak and Eric Tseng are the 3 local seeded qualifiers.
Qualifying will end late this evening and a one-game desperado squad for the Men's Open will be held for the top 3 finishers to join the Stage 1 finals tomorrow.
Detailed scores: Women's Open Qualifying | Men's Open Qualifying | Photo Album.
Photos by Terence Yaw in Hong Kong.