Singaporean chasing elusive win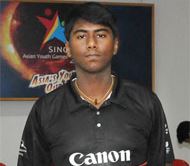 30th May, Singapore: Two-time Singapore Open Youth Masters second runner-up, Suresh Elangovan is chasing for his first victory in the 46th Singapore International Open after moving up into second spot in the Men's Open Masters qualifying leaderboard on Thursday.
Suresh, who finished third in the Youth Boys Masters finals in the morning, leapfrog from 13th in the local pool to second after improving his lower 614 series with 671 for a 6-game aggregate of 1353.
The 20-year-old member of Singapore's development squad was also third in last year's championship Youth Boys division, again had to settle for third again behind Selangor's Muhd Aizudeen Mustaqim and Malaysian national youth, Daniel Tan.
Having had his first assignment done and dusted, he began to focus on making sure he qualified for the Open division and displayed sheer determination with his impressive qualifying round today.
Suresh trailed leader and team-mate, Keith Saw, who remained in pole position in the local pool with 1396 while Benjamin Hong slipped down to third in the table with 1353.
Zulmazran Zulkifli of Malaysia also retained in top spot in the overseas pool with 1445 followed by Dechochai Tinjiratip of Thailand in second and 17-year-old Malaysian sensation, Rafiq Ismail in third with 1397 and 1395 respectively.Several big movers in today's highly contested qualifying rounds were Indonesia's Rangga Yudhira in fifth with 1389, Malaysia's Kang Bo Long in sixth with 1387, Thailand's Surasak Manuwong in seventh with 1366.
Also making headway is Chinese Taipei's Teng Jui-Pu in eighth with 1364. Current cut in the local pool is held by Nicholas Lee with 1303 and the cut in the overseas pool is held by Fachri Ibnu Askar of Indonesia with 1334.
Cheng Hsing-Chao of Chinese Taipei headed the mixed pool with 1333 while the cut in in 12th position went to Malaysia's Adrian Ang with 1287.
Meanwhile 2013 Thailand Open champion, Kim Min-Hee of Daejeon Metropolitan City, Korea took over the lead of the Women's Open division overseas pool with a superb 1358 total dislodging Malaysia's Esther Cheah into second spot.
Malaysian women continued to shine by occupying third to sixth positions with Filipino, Lara Posadas of Team Bowlmart in seventh and Sung Gyeoung Eun in eighth.
Three-time Collegiate Bowler of the Year and runner-up in 2011, Jazreel Tan stormed into third spot in the local pool with an improved 1328 total. Cherie Tan and New Hui Fen remained first and second with 1413 and 1362.
Kim's team-mate, Jun Gwi-Ae topped the mixed pool with 1251 while Indonesia's Elsa Maris Husin is the cut in 9th position with 1230.
The top 10 local women qualifiers, top 10 overseas women qualifiers and the top 9 women qualifiers from the mixed pool will contest the two blocks of 10 games finals on May 31 and June 1.Likewise, the top 13 local men, top 13 overseas men, top 12 men qualifiers from the mixed pool, top 3 from the desperado squad and defending champion will also contest the two blocks finals.
Photos by Terence Yaw in Singapore.