Singapore, USA retains titles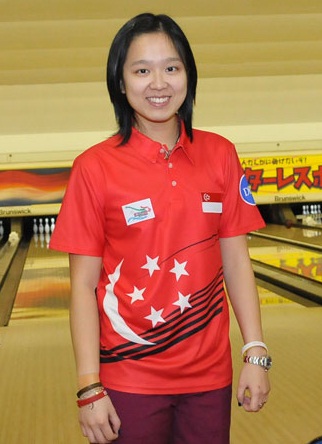 18th January, Nagoya: Qualification round winner and reigning AMF World Cup champion, Shayna Ng of Singapore and defending champion and American PBA pro, Tommy Jones won Round 1 finals of the PBA-WBT #4 International Bowling Championships 2013 supported by DHC on Friday evening.
The battle between the front-running Shayna Ng and Liz Johnson was finally decided whan the reigning AMF World Cup champion and Round 1 first block leader, Shayna won the round with 3671.
Johnson, who was the second most consistent bowler, downed 720 in her final series to settle for second with 3575, 96 pins adrift. Malaysia's top performer was Zandra Aziela, who took third spot with 3525.
A second American and World Singles champion, Kelly Kulick finished fourth with 3501 ahead of the unlucky Singaporean, Jazreel Tan who had to give away her TV finals spot despite totaling 3442.
Nishimura Miki of Team DHC was Japan's best female finisher and hence earned a bye into the TV finals as a Japanese representative. She managed only 3311 for 15th spot.
The second Malaysian, Jacqueline Sijore ended in sixth position with 3422 while Indonesoa's Tannya Roumimper, wo was fifth after the first block, slipped down to eighth with 3419.
Defending champion, Cherie Tan failed to defend her title after missing the cut and finishing ninth as A third Malaysian, Sin Li Jane rounded out the top 10 with 3372. Kristel Oh ended in 23rd position after squeezing into this round in 24th position.
Defending champion Tommy Jones, who had topped the first block of the Round 1 finals with 2921, shot 722 thanks to a big game of 289 in the 14th game to end the finals in the lead with 3643 and 107 pins ahead of his nearest rival.
Malaysian 16-year-old sensation, Rafiq Ismail stunned the field after putting up another splendid performance to take second spot with 3536.
World Singles champion, who was fourth after the first block, bowled consistently to finish third with 3535 while the top Japanese pro was Suzuki Hiroki, taking up fourth position with 3516 with a superb series of 717.
A third American PBA pro and PBA Bowler of the Year, Sean Rash stormed home to snatch the fifth and final TV finals spot with 3511, pipping qualification round leader, Saito Shigeo of Japan by 1 pin.A fourth American PBA pro, Mike Fagan finished sixth with 3506, a further 4 pins adrift. Qualification round block 1 winner, Ryan Ciminelli of United States struggled in this round to end in tenth position.
The top 5 men and top 5 women will bowl in the first match in their respective division. The lowest two scorer will be eliminated and ranked accordingly based on their score.
The top 3 will advance to the second match and the lowest scorer will be eliminated and awarded third spot. The top two scorers will then contest the title match over one game.
Before the TV finals, the top 3 Japanese women and top 3 international bowlers for both the men and women division will bowl in a special "Trio" event in a Baker format starting with the women at 10.00am local time followed by the men at 10.30am.
The TV finals will commence at 11.40am with the women followed by the men at 2.50pm. The finals will be telecast LIVE.
Detailed scores: Women's Round 1 Block 2 | Men's Round 1 Block 2 | Photo Album.
Photos by Terence Yaw in Nagoya.