Singapore women overall champion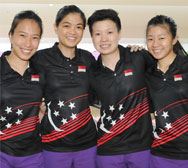 5th July, Anyang, Korea: Singapore women emerged as champion after topping the women medal tally with 2 gold and 1 bronze medal at the 4th Asian Indoor & Martial Arts Games despite not making the Team of Four semi-finals.
New Hu Fen, Geraldine Ng, Daphne Tan and Bernice Lim, who was fifth in the first block yesterday, ended the second block in the Team event in eighth position with 4583.
Korean women outclassed the field with a stunning and consistent performance in both the blocks to sail through into the semi-final shootout as top seed with 5266, a massive 436 pins ahead of Japan in second with 4830.
Malaysia finished third to assure themselves their first medal at the games with 4747 while Chinese Taipei took the fourth and last semi-final spot with 4738.
Even if Korea wins the gold in the team event, Singapore would still emerge as women champion with 2 gold and 1 bronze medal. Daphne Tan won the island's first gold in the Singles defeating China's Chen Dongdong on opening day.
Tan and Bernice Lim secured Singapore's second gold in the Doubles after defeating Korea in the final. New Hui Fen and Geraldine Ng, who lost to Tan and Lim in the semi-finals, added a bronze medal to Singapore's tally.
Meanwhile, Singapore men quartet ended their campaign at the games finishing sixth in the Team of Four event. They will however come home with a bronze medal. Joel Tan and Keith Saw lost Japan in the semi-finals.
First block leader, Korea ended the Team second block in pole and will advance into the semi-final shootout with 5281. Hong Kong snatched second spot with 5169 with UAE finishing third with 5103.
Indonesian men were qauranteed a medal when they clinched fourth and last semi-final spot with 5012 edging out Malaysia by four pins.
They will have a daunting task of meeting the mighty Koreans in the first semi-final match while Hong Kong and UAE will face each other in the other semi.
Both the men and women Team of Four semi-finals will be held tomorrow morning at 9.00am local time. The winners will meet in the gold medal final match and the losers will earn a bronze medal each.
Detailed scores: Men's Team Block 2 | Women's Team Block 2 | Photo Album.
Photos by Terence Yaw in Anyang, Korea.