Singapore women makes top bracket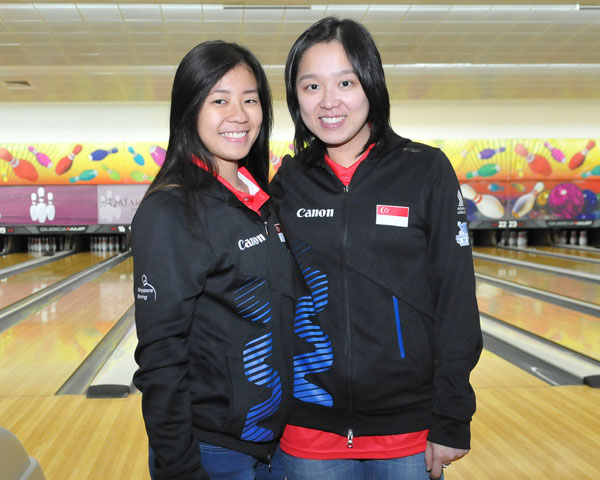 26th February, Doha: Squad A leader, Bernice Lim and first perfect gamer, Jazreel Tan made the top bracket of the qualifying standings at the PBA-WBT #7 H.H. Emir Cup 2014 by taking up second and third spots behind leader, Wu Siu Hong of Hong Kong.
Lim, who ended her two blocks of 10 games qualifying round over two days in the lead with 2511, was overhauled by Wu Siu Hong of Hong Kong in the second squad. Wu, who won the Day 3 High series award with 1268, posted another high series award winning 1335 to amass a total of 2603.
Four-time Collegiate Bowler of the Year Jazreel, who shot the tournament's first 300 in her first block, joined Lim in the top 6 bracket in third with 2465. Both the Singapore national bowler earned a valuable bye skipping Step 1 finals.
Debutants, John Szczerbinski and Tom Daugherty of United States, who tied second in the second squad, tied fourth overall with 2463 while a third American PBA pro, Bill O'Neill clinched the sixth and final top bracket position with 2438.
PBA-WBT Saudi Open champion, Tommy Jones missed the top bracket by 4 pins with 2434 but headed positions 7 to 28 qualifiers for Step 1 finals. Two-hander, Osku Palermaa of Finland and newly-crowned USBC Masters champion, Jason Belmonte of Australia took eighth and ninth positions.
A third Singapore women and 2013 AMF World Cup first runner-up, Cherie Tan rounded out the top 10 with 2428. New Hui Fen and SBF Bowler of the Year, Shayna Ng made the finals in 16th and 17th positions with 2384 and 2374 respectively.
Daphne Tan improved with a second attempt in Squad B to qualify in 22nd with 2333 while national rookie, Joey Yeo on her first senior international assignment, clinched the 28th and final qualifying spot with 2276.
Keith Saw and Muhammad Jaris Goh both did not make the cut in 48th and 50th positions but in the desperado squad, Keith topped the field of 40 bowlers with a stunning 268 to make the finals.
PBA-WBT Saudi Open first runner-up and his team-mate, Eric Tseng both scored 267 in the desperado squad to qualify with Andres Gomez of Colombia clinching the fourth and final spot with 254.
The qualifiers will contest the 5-games Step 1 Finals tomorrow and the top 10 will advance to Step 2 finals joined by the top 6 seeded qualifiers for another 5 games on Friday, February 28. The top 4 finishers will advance to the Step 3 and 4 Finals.
The top seed will face the fourth seed and the second seed will meet the third seed over a two-game total pinfalls shootout. The loser will finish third and fourth while the winners will meet in the title match, again over two-game total pinfall.
Detailed scores: Squad B Block 2 | Overall Qualifying Standings | Photo Album.
Photos by Terence Yaw in Doha, Qatar.